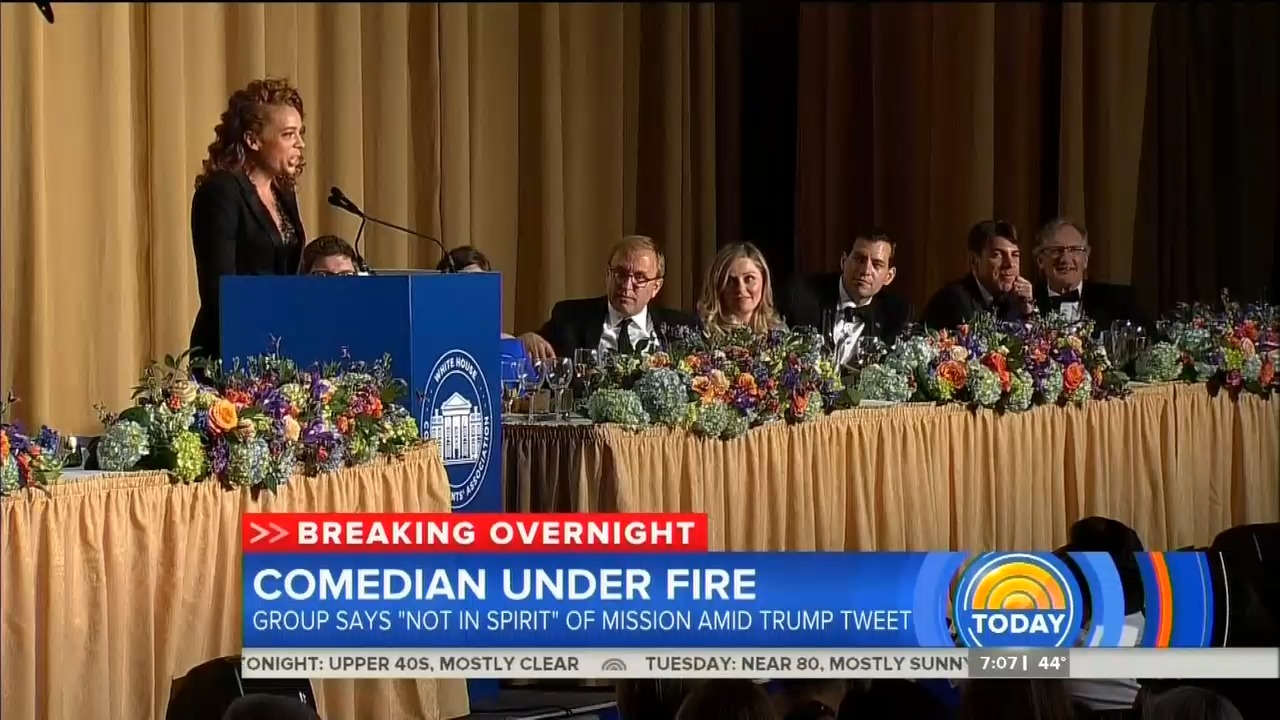 Although even the White House Correspondents Association has distanced itself from the vulgar performance of comedian Michelle Wolf at their dinner on Saturday, a Washington Post editor has hailed her "cringeworthy" routine. That would be Molly Roberts whose bio at the Post describes her as "editor, writer and producer for The Post's Opinions section." Roberts endorsed Wolf's poor taste delivery on April 29 in Michelle Wolf got it just right:
Wolf managed Saturday night to scandalize the majority of Washington's tuxedo-clad intelligentsia with a barrage of bon mots that, in the eyes of much of the press and political establishment, weren't really so bon at all. The speech, these pundits have argued, wasn't amusing; it was lewd, and worse than that, it was mean.
Wolf faced particular criticism for (besides all that sex stuff) her satire of Sarah Huckabee Sanders, who apparently was a profile in courage for sitting still with pursed lips while someone told jokes about her — "to her face!" These commentators spun the strange narrative that Wolf went after Sanders for her appearance, when in reality Wolf's barbs centered on the press secretary's falsehood-filled performance on the White House podium.
Huh? Here is some of what Wolf said about Sarah Huckabee Sanders: "I actually really like Sarah. I think she's very resourceful. She burns facts, and then she uses that ash to create a perfect smoky eye. Like maybe she's born with it, maybe it's lies. It's probably lies." That sure sounds like a slam on her appearance.
And now the Washington Post editor joins Wolf in calling Huckabee Sanders a liar:
All the same, countless journalists rallied behind Sanders, the same woman who spends her days lying to them.
Roberts then defends Wolf for going full bore gross:
Wolf, according to the commentariat, violated a sacred standard of decency that defines the correspondents' dinner every year. The comedian should roast people, yes, but she should do it at a suitably low temperature for this town's all-too-tender egos. Wolf broke protocol by turning on the broiler. Yet the figures she scorched have shattered norms that are far more important than an unspoken prohibition on vagina jokes.
The Washington Post editor justifies Wolf's public obscenities because of...Trump:
That Wolf's performance was not "normal" for the correspondents' dinner is a testament to its timeliness and necessity — nothing is "normal" right now, and pretending otherwise out of a false sense of the fourth estate's friendship with the executive would have been the real disgrace. Wolf called the Trump administration out for tearing down democracy. Then, the people who are supposed to care most about holding autocrats to account called her out in turn for, essentially, not being chummy enough.
Her praise of Wolf would sound very much at home at sanity-challenged places such as the Democratic Underground or Daily Kos but then you have to keep reminding yourself that you are reading this at the Washington Post by one of their own editors who produces their Opinions section.