In an exclusive story today for the Daily Beast, Shane Harris and Nancy Youssef give readers a sneak peek at the findings of an unpublished congressional probe criticizing the swap of alleged Army deserter Sgt. Bowe Bergdahl for five Gitmo detainees.
Here's an excerpt (emphasis mine): 
A new congressional report is critical of the Obama administration's decision to trade five Taliban prisoners held at Guantanamo Bay for Army Sgt. Bowe Bergdahl. And the report ascribes a political motivation to the prisoner swap, according to two sources familiar with the document's contents.

Administration officials have long said that the exchange of Taliban prisoners for Bergdahl, who disappeared from his base in eastern Afghanistan in 2009 and was held for five years by a Taliban affiliate, was conducted under a long-standing tradition of trading prisoners at the end of military hostilities.

"We have an unwavering commitment and patriotic duty to leave no man or woman in uniform behind on the battlefield," a senior administration official told The Daily Beast, without commenting directly on the report, which was written by the Republican staff of the House Armed Services Committee. (The Democrats were reviewing the document Monday evening.)

"We had a near-term opportunity to save Sergeant Bergdahl's life, and we were committed to using every tool at our disposal to secure his safe return," the official said.

But before the Bergdahl trade, senior U.S. intelligence officials had also told members of Congress that the Taliban fighters were likely to return to hostilities against the United States if they were released. The fighters were placed under house arrest in Qatar for one year, but that did little to dampen criticism that the administration had taken a risk releasing the men.

The new report is likely to reignite the controversy around the administration's decision and Bergdahl's case, which has figured in a vitriolic presidential election season. The sources said that it raises the question of whether the administration was motivated to release the five prisoners as a way of reducing the prisoner population at Guantanamo. The Obama administration has been searching for a place to house the remaining prisoners outside the island prison, and the issue has become a political albatross for the president, who promised from his first days in office to close the facility.
Obviously the tack that the committee's Democrats take – especially if they file a minority report which largely dissents from the majority's take – will have some impact on the sort of media coverage after the fact. That assumes, of course, that the mainstream media are even inclined to pay much attention to this issue.
We'll keep an eye out for coverage in the broadcast media, but aren't too optimistic.
<<<Click on the image below to help us with your tax-deductible gift>>>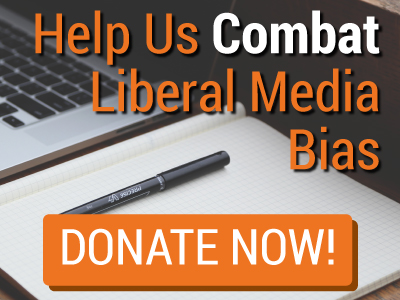 <<<Thank you for your support!>>>