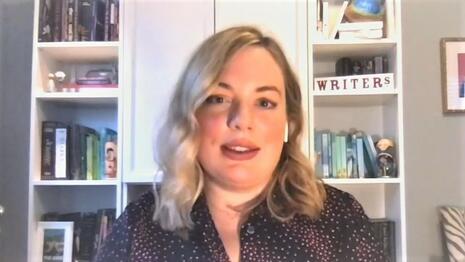 New York Times White House reporter Katie Rogers can't get over how refreshing the President Biden administration is. She gushed about it again in an interview on Monday: "Covering a Different Washington."
It's an "Inside the Times" conversation that's supposed to provide "behind-the-scenes insights into how our journalism comes together." Aishvarya Kavi set Rogers up to praise Biden:
Thirteen weeks into the administration of Joseph R. Biden Jr., Washington feels startlingly different than it did under former President Donald J. Trump. Beyond the change in politics, Mr. Biden has brought a new approach to dealing with the media, has hired a more diverse cabinet, and has a different kind of relationship with his vice president. Katie Rogers, a White House correspondent for The New York Times, discusses how covering political figures has changed under the Biden administration and why it now feels that there are more hours in the day….
Trump being barred from Twitter didn't set off any of Rogers' journalistic or free-speech alarm bells; in fact, it came as a relief.
It was just a matter of having lived in Washington through the last four years of the Trump era -- D.C. had become a political battleground. The fact that President Trump had been removed from Twitter, restaurants were starting to open up again, people were starting to get vaccinations -- there was this sense of palpable relief….
Rogers pandered to historic VP Harris:
AK: You also cover Vice President Kamala Harris. How has the president's relationship with his vice president changed from the Trump administration to the Biden administration?

KR: In Vice President Kamala Harris, you have somebody who is still figuring out how to be the first woman, the first Black woman, the first woman of Asian descent, in a role that is already really tricky. She's with a president who understands how challenging that job is….
And don't forget the First Lady (and the First Marriage) is far better, as well: 
AK: How has the first lady, Jill Biden, changed the dynamics within the White House?

KR: When you have a dynamic between the first couple that's based in honesty and mutual respect, the way that the Bidens have, the White House works differently. The president treats Jill Biden as his gut check....That's not really the relationship that Melania Trump and Donald Trump had….
This was the oddest exchange:
AK: What has surprised you about the Biden White House so far?

KR: It hasn't really surprised me, but I think that this administration is disciplined in terms of messaging. It doesn't want any room for error. But the president likes reporters -- you can see him drifting over to them when he is heading to Marine One or answering questions in the Oval Office. He's not afraid of them….
The inference that former President Trump somehow hid from the press is bizarre. How could anyone paying attention think that Trump shied away from reporters?
A previous piece from Rogers, "Washington Basks in a New Event: A Weekend of Tranquility," revealed the cozy relationship between the press and the Biden administration and its unhealthy, ongoing obsession with Donald Trump.