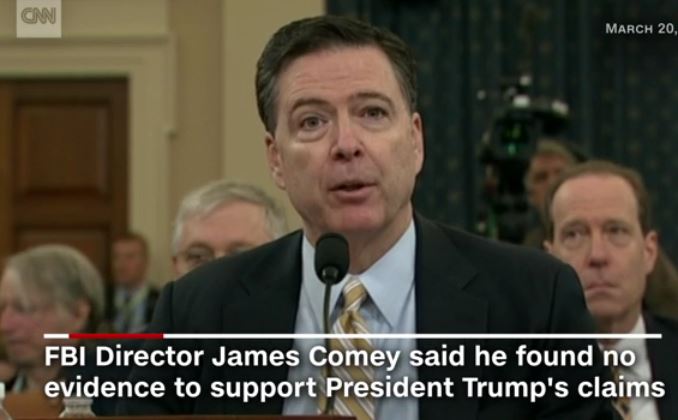 The New York Times is still treating FBI Director James Comey's decision to reopen the case of Hillary Clinton's emails as a leading factor in her loss. But the 7,500-word lead story in Sunday's New York Times: "In Trying to Avoid Politics, Comey Shaped an Election – Behind-the-Scenes Handling of 2 Inquiries Thrust F.B.I. Into Center of Race" also contained a hidden "bombshell" that the Times should acknowledge to defend its own journalistic integrity against Democratic criticism.
The investigation of Hillary Clinton's improper and possibly illegal storage of classified documents while secretary of state was reopened during an unrelated investigation into former congressman Anthony Weiner, who was caught sexting a 15-year-old. Weiner's wife is Huma Abedin, Clinton's closest confidante, and thousands of her emails had been backed up on her husband's computer, including messages linked to Hillary Clinton's home server and older Blackberry server.
....with polls showing Mrs. Clinton holding a comfortable lead, Mr. Comey ended up plunging the F.B.I. into the molten center of a bitter election. Fearing the backlash that would come if it were revealed after the election that the F.B.I. had been investigating the next president and had kept it a secret, Mr. Comey sent a letter informing Congress that the case was reopened.

What he did not say was that the F.B.I. was also investigating the campaign of Donald J. Trump. Just weeks before, Mr. Comey had declined to answer a question from Congress about whether there was such an investigation. Only in March, long after the election, did Mr. Comey confirm that there was one.

....

An examination by The New York Times, based on interviews with more than 30 current and former law enforcement, congressional and other government officials, found that while partisanship was not a factor in Mr. Comey's approach to the two investigations, he handled them in starkly different ways. In the case of Mrs. Clinton, he rewrote the script, partly based on the F.B.I.'s expectation that she would win and fearing the bureau would be accused of helping her. In the case of Mr. Trump, he conducted the investigation by the book, with the F.B.I.'s traditional secrecy. Many of the officials discussed the investigations on the condition of anonymity because they were not authorized to speak to reporters.

Mr. Comey made those decisions with the supreme self-confidence of a former prosecutor who, in a distinguished career, has cultivated a reputation for what supporters see as fierce independence, and detractors view as media-savvy arrogance.
The reporters got in a few left jabs at Comey.
In 2015, as prosecutors pushed for greater accountability for police misconduct, Mr. Comey embraced the controversial theory that scrutiny of police officers led to increases in crime -- the so-called Ferguson effect. "We were really caught off guard," said Vanita Gupta, the Justice Department's top civil rights prosecutor at the time. "He lobbed a fairly inflammatory statement, without data to back it up, and walked away."
Then came what the Weekly Standard's Mark Hemingway characterized as a buried bombshell showing how hard the Obama Justice Department worked to defend Hillary during the campaign:
Responding to questions from The Times, the Justice Department confirmed that it had received a criminal referral -- the first step toward a criminal investigation -- over Mrs. Clinton's handling of classified information.

But the next morning, the department revised its statement.

"The department has received a referral related to the potential compromise of classified information," the new statement read. "It is not a criminal referral."

At the F.B.I., this was a distinction without a difference: Despite what officials said in public, agents had been alerted to mishandled classified information and in response, records show, had opened a full criminal investigation.

The Justice Department knew a criminal investigation was underway, but officials said they were being technically accurate about the nature of the referral. Some at the F.B.I. suspected that Democratic appointees were playing semantic games to help Mrs. Clinton, who immediately seized on the statement to play down the issue. "It is not a criminal investigation," she said, incorrectly. "It is a security review."
Mark Hemingway at the Weekly Standard observed: "Clinton defenders rarely note that there are many indefensible ways in which the Obama administration aided and abetted her from the consequences of what appeared to sensible Americans as plainly illegal behavior."
At the time (June 2015), the Times was chastised by the Clinton campaign and its liberal readership for referring (accurately, as we see) to the "criminal investigation," and the paper didn't bother defending itself from the liberal onslaught that resulted, meekly reversing itself after the campaign complained. Yet even though Matt Apuzzo and Michael Schmidt helped cowrite both stories, there was no acknowledgement that the paper's initial reporting against Clinton had been vindicated, in their Sunday investigation.
In fact, Apuzzo and Schmidt (Adam Goldman and Eric Lichtblau also share the Sunday byline) still took pains to give Hillary Clinton the benefit of the criminal doubt.
They knew it would not be enough to prove that Mrs. Clinton was sloppy or careless. To bring charges, they needed evidence that she knowingly received classified information or set up her server for that purpose.

That was especially important after a deal the Justice Department had made with David H. Petraeus, the retired general and former director of the Central Intelligence Agency. Mr. Petraeus had passed classified information to his biographer, with whom he was having an affair, and the evidence was damning: He revealed the names of covert agents and other secrets, he was recorded saying that he knew it was wrong, and he lied to the F.B.I.

But over Mr. Comey's objections, the Justice Department let Mr. Petraeus plead guilty in April 2015 to a misdemeanor count of mishandling classified information. Charging Mrs. Clinton with the same crime, without evidence of intent, would be difficult.

....

With a black binder in hand, Mr. Comey walked into a large room on the ground floor of the F.B.I.'s headquarters. Standing in front of two American flags and two royal-blue F.B.I. flags, he read from a script....Mr. Comey's criticism -- his description of her carelessness -- was the most controversial part of the speech. Agents and prosecutors have been reprimanded for injecting their legal conclusions with personal opinions. But those close to Mr. Comey say he has no regrets.
Reporter Michael Barbaro, host of the paper's news podcast The Daily, talked to lead reporter Mark Apuzzo about his team's investigation, but gave a starring role to Hillary Clinton's campaign press secretary Brian Fallon lamenting Comey's decision, with Barbaro asking him if he thought Comey's decision was based on political partisanship (Fallon said no).