Update: Check out how Reuters ran from it's original take on the incident:
When Reuters originally covered this story, they reported that the group was pro-abortion. But since then, they have deleted the original tweet and posted a statement correcting their "mistake" (even though they were spot on), instead choosing to call the group "pro-choice."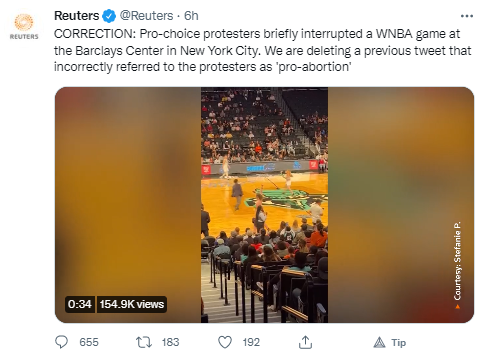 ​
You have to wonder if Reuters would extend the same courtesy to a pro-life group. Probably not.​
Most WNBA games have a minimal entertainment factor, but something happened on Tuesday's game between the New York Liberty and the Minnesota Lynx that certainly spiced things up.
A group of topless protestors briefly ran onto the court at the Barclays Center to advocate for abortion rights and for upholding Roe v. Wade.
Some women had what appeared to be green paint covering their otherwise uncovered upper body, while some also had red paint plastered between their legs.
The protestors carried several banners with pro-choice slogans, some of which read "Abortion on demand & without apology," and "Overturn Roe? Hell no!" The later phrase is a slogan for "Rise Up 4 Abortion Rights," an organization that … well, I'll let you draw your own conclusion on what they do. 
The organization tweeted out a picture of the four women who protested, along with a statement that read, "'This was the audience we wanted. We aren't protesting to change the hearts & minds of woman-hating fascists. No. We are calling on those who can stop the overturning of #RoeVWade: THE MILLIONS of ppl who support #abortionrights. YOU! No business as usual. Shut the country down!' 
So there are a couple of things wrong with this statement. 
If they're not interested in the "hearts & minds of woman-hating fascists," why di the show up and pull the same stunt at a Texas megachurch?
Related: Abortion Activists Strip Down to Undies at Texas Church Service
Besides, the decision to overturn Roe v. Wade is up to the Supreme Court justices, not a large mob of whack jobs that want to keep legalizing killing babies. While they are within their First Amendment right to protest, the decision is not up to them or anyone else that supports abortion or, for that matter, doesn't support it.
Also, it's laughable to think that their demands are going to lead to the country shutting down. It just shows the extent of the bad logic they hold and the entitlement that has found a home in their minds. 
While protesting at a relatively uneventful WNBA game was certainly an easy way to get some attention, it likely will not amount to anything in the long run.