Ok so maybe Clapton isn't actually "god," but neither is big government during the height of the Chinese plague. The English blues guitar virtuoso teamed up with legendary songwriter and vocalist Van Morrison to write an anti-lockdown song and provided some words on how the next wave of COVID lockdowns in the U.K. will be terrible for his industry.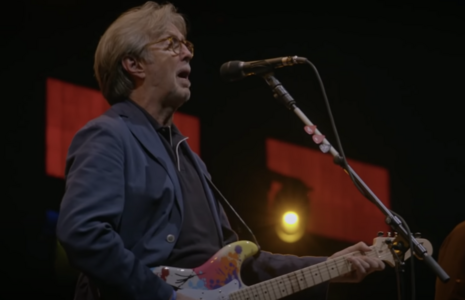 Hollywood outlet Variety reported on Clapton and Morrison's upcoming collaboration on November 27, explaining that they produced the song "Stand and Deliver" to provide support for "Morrison's Save Live Music campaign," an initiative intended to raise money for musicians harmed by the cancellation of live music performances because due to Wu Flu risks.
The outlet wrote, "Proceeds from 'Stand and Deliver' will go to the Morrison's Lockdown Financial Hardship Fund, which helps musicians facing difficulties as a result of the coronavirus and resulting lockdown measures." The "Brown Eyed Girl" singer penned the blues track, which Clapton, the guitar player behind "Layla," and three time Rock N' Roll Hall of Fame inductee, performed.
In recent months, Van Morrison has derided the U.K.'s Coronavirus response. It has decimated live music, with venues cancelling large gatherings for the foreseeable future. In September and October, Morrison penned three anti-lockdown songs, titled, "Born To Be Free," "As I Walked Out" and "No More Lockdown."
Not only providing his talent to Van Morrison's track, Clapton has united his political perspective to that of Van Morrison, telling Variety  that Britain's lockdown measures have been "deeply upsetting" to him as well.
In addition to praising the "Moondance" singer's political stance as a source for "inspiration," Clapton urged his fellow British citizens to fight to get out "of this mess." He claimed, "We must stand up and be counted because we need to find a way out of this mess. The alternative is not worth thinking about. Live music might never recover."
Clapton, arguably one of the greatest live musicians of all time, would be considered obsolete in a post COVID music industry. The man, who had continued to perform live pre-COVID and the founder of "Crossroads Guitar Festival," understands full well the devastating effects of lockdowns in his industry. Such festivals would become a thing of the past, and so would concert-going as we know it.
Morrison praised Clapton's involvement as well. He told the outlet, "Eric's recording is fantastic and will clearly resonate with the many who share our frustrations." The musician then described the government's lack of support of these musicians' industry "heartbreaking." 
"We want to reassure them that we are working hard every day to lobby for the return of live music, and to save our industry," Van Morrison added. 
"Stand and Deliver" will be available for download and streaming on all major platforms by December 2. To hear that one of the all time greats is anti-big government, as opposed to all the useful idiots in his industry, makes his new song essential listening.