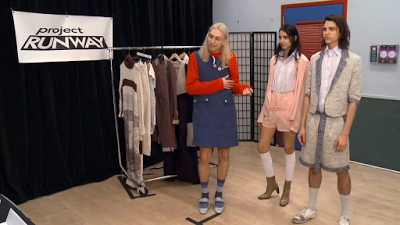 Season 16 of Lifetime's fashion hit Project Runway premiered Thursday, August 17, with a focus on designing for all body types, ranging "in size from two to 22," according to designer and the show's judge Tim Gunn. Oh, and a "dude in a dress." Because, of course.  
Project Runway features aspiring designers who compete to break into the fashion industry, with one designer eliminated each week after judges critique each look on the runway.
As usual for the show, aptly titled "One Size Does Not Fit All," the designers this season are just as diverse as the body types they're designing for...except, of course, for anyone conservative or leading with a Christian faith. The left can only be so tolerant and diverse, you know. Anyone who doesn't fit their political beliefs and agenda is persona non-grata.
Therefore, we have among others, a Muslim woman, Ayana, in full Muslim garb who wants to design modest clothes for women (nothing wrong with that, but how long have Christians been mocked for desiring modesty? It appears that it's only cool and fashionable if it comes from a Muslim woman), a former dancer, Sentell, who became a designer because an Oracle flipped a card that told him he should be working in fashion, and Aaron, who is pushing a design aesthetic that's "androgynous and playing with, like, masculinity and femininity."
Of course, there's an Aaron. The show wouldn't be complete without a designer who defies gender norms. Here's his introduction in the show's opening sequence:
Aaron: The beauty of fashion is there's no rules anymore. "He's a dude wearing a dress. Like, this is crazy," but, for me, it's just normal.
But it's not just normal for Aaron, according to him. He also says later in the show, as clips of male models in dresses and other feminine clothing that he has designed flash by, that his aesthetic is where fashion is heading:
[video:
width:720 height:405 align:center]
Aaron: I would say that my aesthetic is playing with the different canons of masculinity and femininity. And I think that's kind of where fashion's going at this point. I gotta make some (bleep), otherwise I'm gonna fall apart.
One guess as to what look he used for his female model….
If you guessed tuxedo, you would be correct! Although it was an upside down tuxedo and actually looked feminine to me in the end and like something I would like to wear. Maybe it's only men that he completely gender bends his designs for? It will be interesting to see if he gets assigned a male model this season.
Because, a woman in a tuxedo or pantsuit is much less shocking, edgy or attention-grabbing than a man in a dress. And shock, edginess and attention is definitely what the gender fluid community appears to be after. You can just imagine him thinking, "Look at me! You can't tell what gender I am, can you?! Ha! I am such a cool, edgy and shocking androgynous rebel! No one puts Aaron in a corner!"
Aside from gender, we're also told that the lower end of the models' size range isn't "real." According to the designers: "Model one comes out, typical skinny, tall girl, and then model three comes out with real curves, real body. These girls, they have curves and butts and hips and all kinds of good stuff."
I'm all for celebrating women no matter their size and teaching them to be happy in their own skin, but there's no mention of the life-threatening health complications that can come with being on the larger end of the scale.
I myself, while not obese, am above my healthy weight-range due to chronic illness and not being able to exercise, after years of being healthy, fit and thin. I love and accept myself as I am, but I'd give anything to be able to work out so I can be fit and healthy again - to lower my blood pressure and eliminate the insulin resistance I have developed. I know this is not an ideal weight or "good stuff."
Shaming "typical, skinny, tall girl(s)" as not "real" is not the right way to make larger women feel better about themselves, either. They're using body shaming to fight body shaming, which is counter-intuitive and hypocritical. If it's not okay to body shame a plus-size woman, why is it okay to body shame a thin woman?
And celebrating obesity as the only "real" kind of body sets a lot of women up for complacency, not to mention early heart disease. Surely, there must be a happy medium that's not as unrealistic as a supermodel but also isn't dangerously heavy and unhealthy.
Designer ChaCha, not understanding America's PC culture, complained that his "form" (model) was too "fat." "My form is also too fat. Like so fat," he complained.
He was quickly educated in PC speak and given a host of other terms to use instead of fat, such as "bootylicious" and "family size."
Overall, the show looks like a perfect circus of every stereotypical liberal. I'd love to see Project Runway be truly shocking and edgy and welcome designers that don't fit perfectly into their leftist agenda.
Indeed, one size does not fit all.