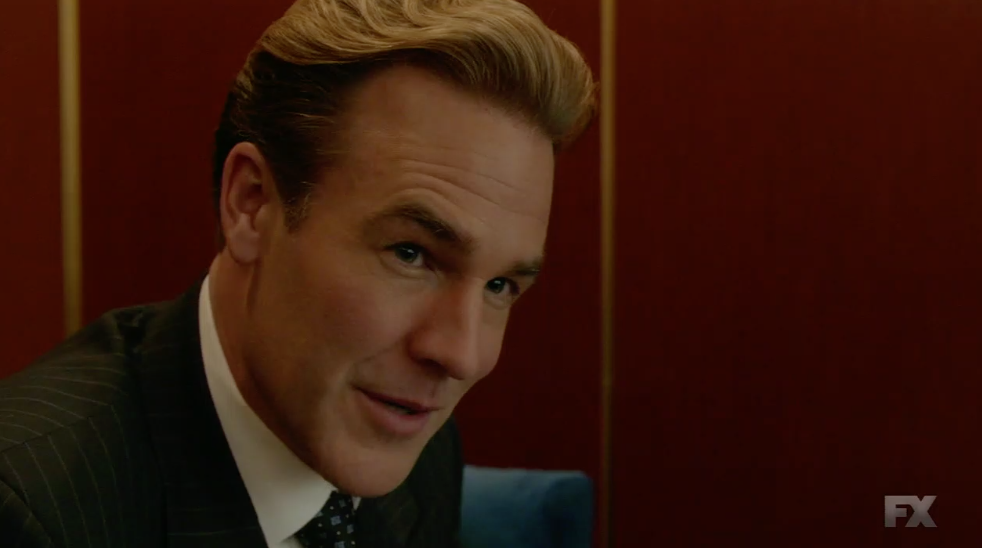 FX's new transgender drama series, Pose, boasts the largest LGBTQ cast ever assembled for a scripted TV show—but that's not enough. The show also wants to tackle Trump-era politics…like literally every show on TV today. Pose follows a group of transgender/gay people and their community trying to find their way in 1987 New York City.
The premiere episode, "Pilot," which aired Sunday, constantly references Trump. Although Trump himself is not a character, because as show co-creator Ryan Murphy put it, "Nobody wanted to see that fuckhead," the episode still manages to take jabs at him and conservatives. During straight, white Stan Bowes' (Evan Peters) interview to be a junior executive at the Trump Organization, the man interviewing him, Matt (James Van Der Beek), snorts a line of cocaine before asserting, for no apparent reason, "God Bless Ronald Reagan." Matt also describes the "new American dream" as the ability to "flaunt your success" and "let people know how rich you are."
Matt: If you're worried your prick's too small 'cause you went to Hofstra, it isn't. You know why Trump picked your résumé out of all the others? You're from New Jersey.

Stan: Usually, that's a detriment.

Matt: Yeah, not here. I'm the unicorn in this place. Trump is from Queens. He likes people who speak the same language as him. Know how to get things done. I ask everyone who comes in here looking for a job-- right down to the janitor-- what do you want? Not money-wise, what do you want?

Stan: Well, I want to be you.

Matt: That's a very good answer.

Stan: I want what you have. I want a view of the river or the park or both. I want to be able to walk by a shop on Fifth, see something in the window for my wife, and just go buy it.

Matt: The new American Dream. For the first time in American history, it's considered a good thing to flaunt your success, right? Let people know how rich you are. This watch? Patek Philippe, rose gold, nine grand. I got four of them. I've watched a Met game from the owner's box and partied with Gooden and Strawberry afterwards. Just the other day, I was backstage at a Cyndi Lauper concert. I drive a Mercedes 350, and this suit is bespoke. God bless Ronald Reagan.
As it turns out, our new Trump employee Stan is interested in a transgender woman, despite having a wife and kids. He becomes infatuated by Angel, who he picks up one night while she's working a corner. After each getting naked for the other (where it is revealed that Angel was born a man), they spend the rest of the evening talking, before Stan pays and kisses her. The episode ends with Stan seeking Angel out again. When Angel learns that Stan works for Trump, she expresses her amazement and yearns for Trump's lavish lifestyle.
The American dream is mentioned again when one of the main characters, Blanca (MJ Rodriguez), talks about the inability of the queer community to achieve the American dream of the "straight, white world": "Realness is what it's all about. Being able to fit into the straight, white world, to embody the American dream. But we don't have access to that dream. And it's not because of ability. Trust me."
It's funny that this show is attempting to make history by featuring a cast of 50+ LGBTQ people, all while following in the footsteps of every show before it and shoehorning Trump bashing.