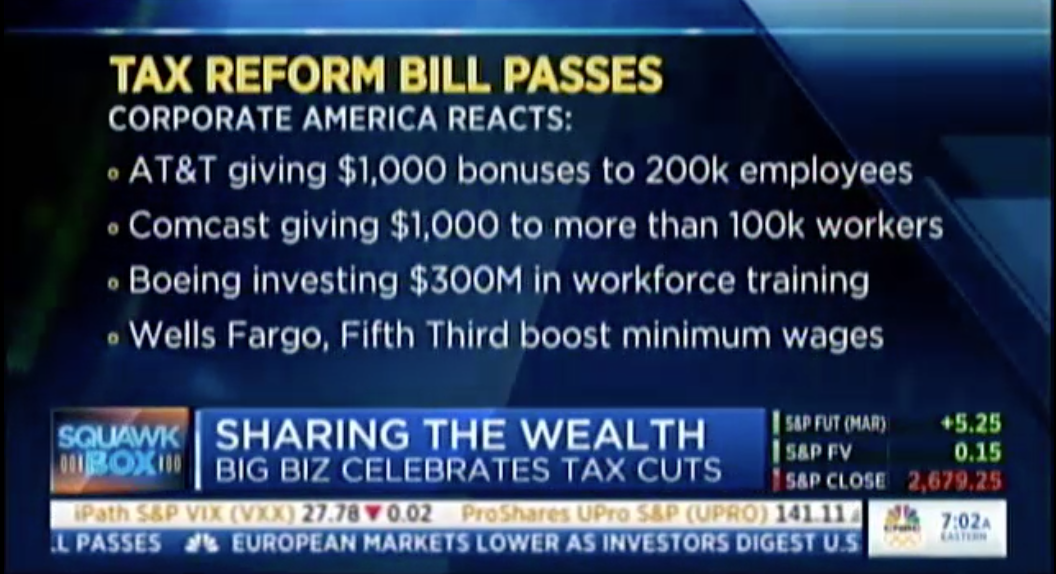 Good news for the economy came quickly on the heels of the Republican-driven tax bill. AT&T, Boeing, Wells Fargo, Comcast and others announced employee bonuses or wage increases, additional contributions to training, charitable efforts and facilities, and U.S. investment. Some directly attributed the decision to changes that will affect them in the tax legislation.
Business Insider (BI) reported that "Companies are rushing to announce special bonuses and pay hikes after the GOP tax plan." One element of the tax bill was that it slashed the corporate tax rate from 35 percent to 21 percent.
Left-wing Slate.com slammed the actions with a piece declaring, "AT&T's $1,000 Christmas Bonus Does Not Mean the GOP Tax Bill Will Raise Your Wages." Slate also provided plenty of criticism of the tax bill and said the companies' decisions were "not thanks to economics but to PR — and perhaps a little bit of human guilt" for what they had been paying their employees.
MSNBC anchor Joy Reid also blasted the companies for handing out bonuses, according to The Daily Caller.
AT&T sent a press release out ahead of the bill's passage, promising to give out $1,000 bonuses to 200,000 employees once the bill was signed. The company also promised $1 billion in U.S. investments in 2018, according to BI.
BI also quoted CEO Dennis Muilenburg who said, "For Boeing, the reforms enable us to better compete on the world stage and give us a stronger foundation for the investment in innovation, facilities and skills that will support our long-term growth." Boeing announced $300 million divided up into additional corporate giving, workforce development and "workplace for the future" upgrades.
Fifth Third Bancorp and Wells Fargo both promised higher minimum wages for its employees and other efforts, while Comcast committed to bonuses for more than 100,000 employees and infrastructure investments.
CNBC's Squawk Box also reported the various company announcements, but unlike Slate, even the more liberal co-host Andrew Ross Sorkin admitted the good news. "Despite my own cynicism it's hard to argue with any of this because it is all good for the country."
Later on he affirmed again, that regardless of motives, this was good news.
"Not a bad thing. All a great thing. And if you're a recipient of it, it's even better. And if you're a part of the economy, which we all are, even better," Sorkin concluded.
Time.com also reported the news without any positive or negative comment.