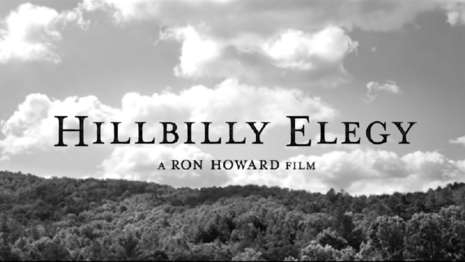 Director Ron Howard apparently had a problem with the rather inconvenient politics of J.D. Vance's memoir, Hillbilly Elegy. His solution was to simply sanitize all politics out of the film version which according to most critics left it a rather lame movie. It will premiere on Netflix on November 24, but don't expect anything even close to, say, John Ford's Grapes of Wrath.
Even the Hollywood Reporter took note of this in their Monday review of the film by Rebecca Keegan in "'Hillbilly Elegy': Caught Between Hollywood and a Hard Place."
Netflix's Ron Howard-directed adaptation of a populist memoir by conservative writer J.D. Vance was greenlit when liberal creatives were trying to understand the other side, but a total avoidance of political substance is what ultimately undermines the film's awards chances.

...The Ron Howard film, which stars Amy Adams and Glenn Close as a pair of flawed but tenacious Appalachian matriarchs, is based on J.D. Vance's 2016 memoir about rising out of poverty in Middletown with the help of his Kentucky-born grandmother (Close) and eventually attending Yale Law School. The week of Trump's inauguration in 2017, the book was No. 1 on the New York Times nonfiction best-seller list, propelled there in part because Vance was in the media helping to explain Trump's popularity among poor white voters to the rest of the electorate. But four years later in Middletown, "That subject [Trump] hasn't come up in regard to the movie at all," says Republic Theatre Group owner Mitchell Bryson, who booked the screening. "There is a lot of political fatigue."
Yeah, "political fatigue" conveniently appears after years of Hollywood shoving leftist themed politics down our throats in the form of must miss woke movies.
The trailer gives a hint of a film that basically goes nowhere according to many critics due to the avoidance of the inconvenient politics of the book.
For all their offscreen political engagement, Vance and Howard's movie is ironically being critiqued for its lack of message. Los Angeles Times film critic Justin Chang calls Hillbilly Elegy "an extended Oscar-clip montage in search of a larger purpose" and Vox's Alissa Wilkinson writes that the film is "distractingly Hollywoodified, a rich person's idea of what it is like to be a poor person, a tone-deaf attempt to assuage a very particular kind of liberal guilt." The makeup and costumes have been pilloried on Twitter.
Other reviewers also noted how the political neutering of the movie undermined it. One such review comes from Alistair Ryder of the Digital Fix.
It comes as no surprise that a safe pair of hands such as Howard's largely neuters any potential political controversy, attempting to divorce the source material from a contentious period in history, where the struggles depicted in the book won't be overshadowed by a context forced upon it.

Naturally, this yields very mixed results, as a humanist drama about addiction and class struggles is still being told from the very distinctive point of view of its author (the protagonist of the tale), ensuring a clear ceiling as to how apolitical Howard can make a story dictated from an unshakeably Republican mindset. And while the film is far from the Trump voter love letter many feared, the watering down of the source material's provocative insights leaves Howard with a completely different problem. His Hillbilly Elegy is a tale of a family overcoming addiction that doesn't attempt to understand the generational cycles of poverty that lead to substance abuse beyond the broadest of strokes, shying away from anything that could be interpreted as a political comment contrary to the source material. It's a missed opportunity to transform a problematic memoir into a meaningful statement, so terrified of becoming a political hot potato it opts to say as little as possible instead.
Hollywood in Toto's Christian Toto wrote about how Howard viewed the book:
What didn't engage the progressive director? The book's connection to the Age of Trump.

"The socio-political stuff [in the book] is interesting, but I don't see it as narrative," Howard says, adding Vance himself wasn't sure there was a feature film to be teased out either.

"He had some reservations if it was adaptable, or if he wanted it for his family's sake," Howard says.
However, fear not. This doesn't mean the end of politically oriented movies. Leftist themed woke films will continue to bore audiences and lose money for the foreseeable future.