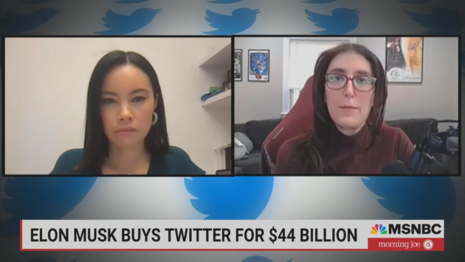 That free-speech thingy is okay, but not if it's mean to women! That was Morning Joe's general take today on Elon Musk's takeover of Twitter. 
During its segment on the situation, the show ran a clip of a "reporter" interviewing Brianna Wu, a video-game developer and harsh Musk critic.
You have to view the video to hear just how loaded was the reporter's tone in putting her question to Wu.
"Do you trust Elon Musk to make Twitter better for women?"
Wu, of course, didn't.
Given the loaded way in which her question was delivered, one could wonder whether the "reporter" was from some fringe left-wing outlet. Guess you can say she was: Jo Ling Kent, of NBC News!
Then there was an exchange between Mika Brzezinski and New York Times Washington bureau chief, Elisabeth Bumiller. The latter uttered that classic line, "we all believe in free speech, BUT..."  Bumiller went on to fret about the "guardrails" coming down, and claimed Twitter has become "a platform for a lot of misogyny."
Brzezinski broke in to recite a litany of horrors ahead on Musk Twitter: "hate speech, defamation, misogyny!"
Both Bumiller and Jonathan Lemire predicted that, despite Donald Trump's assertion that he won't return to Twitter despite Musk taking over, he eventually will do so, with Lemire adding that it could be an "October surprise," just in time for the midterms.
Brianna Wu twice ran unsuccessfully for Congress from Massachusetts. Interviewed by a writer for a LGBTQIA+ website, she basically apologized for being married to a man [emphasis added]!
"It's true that I'm married to a guy, but I grew up queer in Mississippi—which is growing up queer on hard mode. I've had a lot more girlfriends than boyfriends—so, statistically, ending up married to a guy was surprising to me."
Morning Joe turning thumbs down on Elon Musk's takeover of Twitter was sponsored in part by Pfizer, maker of Nexium. 
Here's the transcript.
Morning Joe
4/26/22
6:25 am ET

JO LING KENT: Some critics are concerned Musk's pursuit of free speech will collide with growing safety problems on Twitter, especially for women and minorities. Do you trust Elon Musk to make Twitter better for women?

BRIANNA WU: No, I don't trust Elon Musk to make Twitter better for women at all. I just absolutely don't. If you're asking yourself if this is someone that is going to go to bat for people that are underrepresented, I just don't think that's going to be the case, unfortunately.

. . . 

JONATHAN LEMIRE: The politics of it are also interesting. Musk has become sort of embraced by many on the right. Some Trump supporters who had walked away from Twitter all made a flashy point of rejoining yesterday. 

The former president said he's not interested. I'm going to fact-check that. He's interested. People around him have said that, yes, at some point, they do expect that he will come back onto Twitter. And some feel that especially because it'll take time for the sale to get processed -- that Musk will take over potentially late summer or the fall, just in time, if Trump were to return, ahead of the midterms, which would indeed be interesting. You know, in a sort of October surprise, which could cut one way or the other, either for helping the Democrats, or hurting them. 

WILLIE GEIST: Mika, obviously, the relative quiet from former President Trump has been nice, but if he does go back onto Twitter, his thoughts, at least, will be out in the light of day.

MIKA BRZEZINSKI: Yes, as you guys were talking about the midterms, Elisabeth started nodding, and saying, here we go, here we go. Your thoughts?

ELISABETH BUMILLER: Well I think yes, yes, we will fact-check his claim that he doesn't want to go back on Twitter. I think it will be very hard for the former president to resist. He will weigh in on the midterms, all of his candidates against the Democrats, and I think we will be back where we were in 2018 and 2019. And I think there's a lot of concern, obviously, among Democrats about this. As you see, you know, Musk has a lot of conservative supporters.

And yes, we all believe in free speech, but the guardrails that Twitter has put up: first of all, there's not that many guardrails anyway.

MIKA: Exactly!

BUMILLER: And so, those are going to come down. And it's also become, as we just saw in this clip, it's become a platform for a lot of misogyny, a lot of -- women get treated badly on Twitter.

MIKA: Hate speech, defamation, misogyny.

BUMILLER: I don't see that changing at all.