On his June 4 program, MSNBC Hardball host Chris Matthews treated viewers to yet more biased coverage of voting rights issues, amplifying Hillary Clinton's speech at Texas Southern University attacking on the GOP in regards to voter ID laws and early-voting changes enacted at the state level.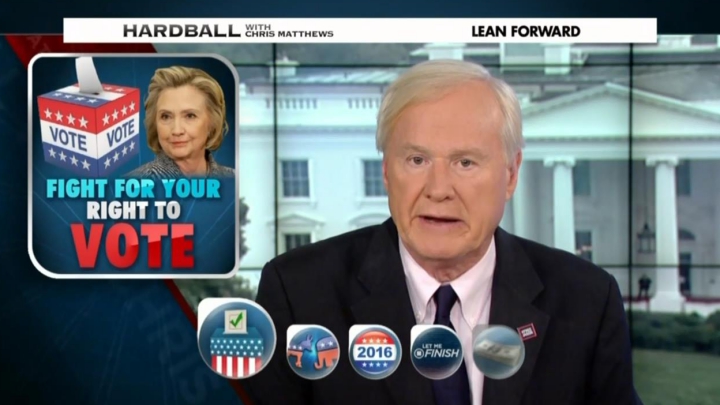 In addition to airing one minute and 24 seconds from Clinton's speech -- including a soundbite wherein she charged Republicans with "systematically and deliberately trying to stop millions of American citizens from voting" --  Matthews brought on two liberal guests, Judith Browne Dianis of the Advancement Project and Michael Waldman of the Brennan Center for Justice, to help him hammer home the GOP "voter suppression" meme.
Of course, whether innocently out of ignorance or more maliciously out of aversion to muddying the partisan narrative, Matthews failed to note that liberal Rhode Island, where Democratic primary rival Lincoln Chafee was recently governor, is a state with no in-person early voting. What's more, it was then-Gov. Lincoln Chafee who signed into law the state's voter ID legislation, sent to his desk by a overwhelmingly Democratic state legislature, and championed by the then-Secretary of State A. Ralph Mollis, also a Democrat.
Here's an excerpt from the press release put out by the governor's office in July 2011 (emphases are mine): 
Providence, RI -- On Saturday, July 2, Governor Lincoln D. Chafee signed House bill 5680 A and Senate bill 0400 A, both titled "An Act Relating to Elections: Voter Identification." The so-called "Voter ID"legislation, which was introduced on behalf of Secretary of State A. Ralph Mollis, will require voters to show ID at the polls beginning in 2012.

"One of our most cherished rights as Americans is the right to vote," Governor Chafee said. "Throughout our nation's history, we have fought to ensure that no citizen be denied that right. Similarly, we have also worked to maintain confidence in our elections by enacting appropriate safeguards to prevent voter intimidation and fraud."

"As the General Assembly debated legislation requiring Rhode Island voters to present valid identification at the polls, I met with a number of experts on both sides to discuss this complex issue,"Governor Chafee continued. "Notably, I spoke with representatives of our state's minority communities, and I found their concerns about voter fraud and their support for this bill particularly compelling."

"Having reflected a great deal on the issue, I believe that requiring identification at the polling place is a reasonable request to ensure the accuracy and integrity of our elections," Governor Chafee concluded. "As a result, I have signed into law H-5680 and S-400."

"The perception that identity theft could occur at the polls weakens the public's faith in the fairness of our elections," said Secretary of State Mollis. "Voting should be at least as secure as everyday tasks like renting a car or getting a library card that routinely require ID. Photo ID ensures that poll workers can match a face to the name that voters give them when they obtain their ballots at the polls. The simple act of asking for ID protects the rights of every voter."

"No one will be denied the opportunity to vote," Mollis emphasized. "Every voter who does not bring ID can cast a provisional ballot, which we already use whenever there is a question about eligibility."

"Voting is one of the most important rights and duties that we have as Americans and it should be treated accordingly,"said Rep. Jon Brien (D - District 50, Woonsocket), who sponsored the legislation in the House. "You have to have an ID to do just about anything today, from opening a bank account to getting a gym membership. But you don't have to prove you are who you say you are to make use of your most important constitutional right. This new law will eliminate confusion of individuals at the polls and reduce fraud without causing a significant imposition on voters."

"As a minority citizen and a senior citizen I would not support anything that I thought would present obstacles or limit protections," said Sen. Harold Metts (D - District 6, Providence), who sponsored the legislation in the Senate. "But in this day and age, very few adults lack one of the forms of identification that will be accepted, and the rare person who does can get a free voter ID card from the Secretary of State. While I'm sensitive to the concerns raised, at this point I am more interested in doing the right thing and stopping voter fraud. Hesitation based on potential ramifications of what may or may not happen at the expense of the integrity of the system is no longer an option."

Under the legislation, poll workers will ask voters to show a photo ID beginning in 2012. If they do not have a photo ID, voters can use a variety of non-photo identification including a Medicare or social security card. Beginning in 2014, voters will be required to show photo ID including a Rhode Island driver's license, military ID, college ID or U.S. passport. The bill incorporates all the requirements that the U.S. Supreme Court set in its 2008 opinion when it heard the case against Indiana's photo ID law including providing free photo ID cards to voters.
So to recap, in Rhode Island, Democrats, including minorities, wrote and passed into law a photo ID bill which liberal Independent Gov. Lincoln Chafee, now a Democrat and a rival to Mrs. Clinton for the 2016 Democratic nomination, signed into law without reservation.
Were Chris Matthews actually interested in educating his audience rather than indoctrinating them, he might have brought these facts to light rather than working to parrot cynical Clintonian talking points.