Five Tampa Bay Rays pitchers chose not to wear pride-colored insignia on their uniforms in Saturday's game against the Chicago White Sox, which was also the Rays' annual Pride Night. While countless people have ridiculed these men for making a decision that was influenced by their faith, not everyone is throwing them under the bus.
Samaritan's Purse and Billy Graham Evangelistic Association CEO Franklin Graham said through a Facebook post on Monday that he fully supports Jason Adam, Jalen Beeks, Brooks Raley, Jeffrey Springs and Ryan Thompson for their decision to not sacrifice their beliefs in order to go along with the flow of culture.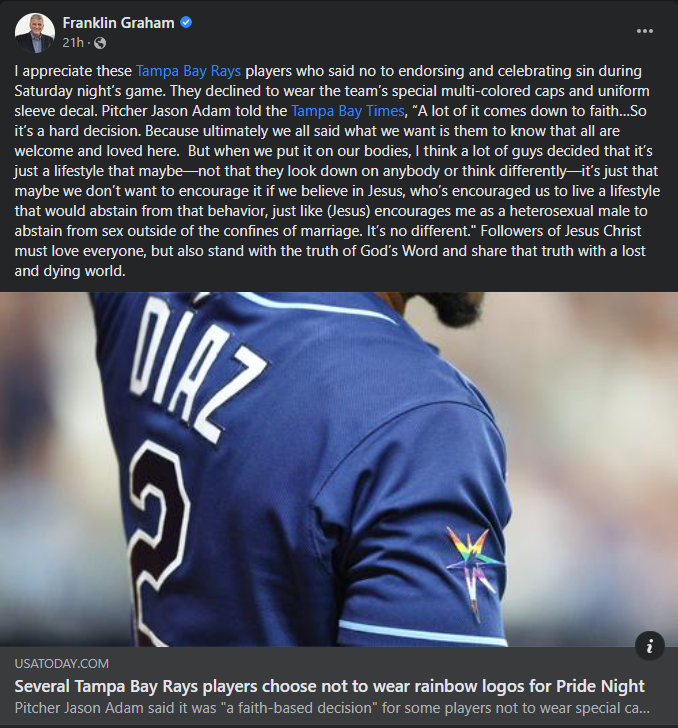 ​
"Followers of Jesus Christ must love everyone, but also stand with the truth of God's Word and share that truth with a lost and dying world," Franklin said in the post.
Unfortunately, this well-articulated response was not enough for ESPN commentator Sarah Spain, who eviscerated these five men as strongly as Graham encouraged them.
[This] is what tends to happen when frivolous class isn't affected by things," Spain said. "That religious exemption BS is used in sports and otherwise also allows for people to be denied health care, jobs, apartments, children, prescriptions, all sorts of rights.

We have to stop tiptoeing around it because we're trying to protect people who are trying to be bigoted from asking for them to be exempt from it, when the very people that they are bigoted against are suffering the consequences you say trying to be bigoted.
Seems like Spain is ignoring the clearly well-balanced response that Adam gave for why these men chose the course of action they did. Nowhere does Adam say they think they are better than LGBT members or that they think this demographic is subhuman, he just says they want to remain true to their religious beliefs above all else.
If anyone is offended by the gracious, humble, and truthful response these men gave, then that is on them for having an immature and unhealthy response. What these men have done is praiseworthy, something Graham recognized and we should too.