The North Carolina GOP issued a statement, expressing their disappointment with the NCAA's decision to pull 7 major championships from their state, using the State's HB2 law as the reason.
Sporting News tweeted their article on the NCGOP statement, and described the piece with all the professionalism and objectivity you would expect from the modern day sports media: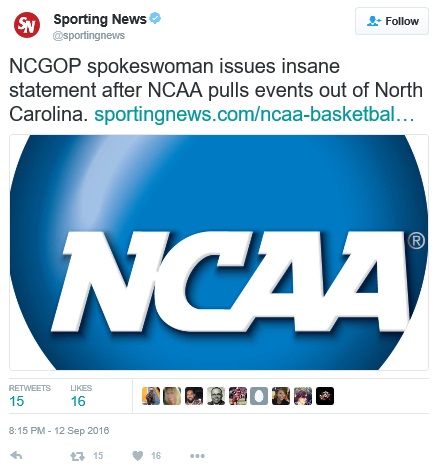 Inside the article itself, things didn't get much better:
"While calling the NCAA's decision to pull championship events from North Carolina because of the state's controversial HB2 legislation "so absurd, it's almost comical," the press secretary of the NCGOP issued a statement that was, well, so absurd, it was almost comical.

Kami Mueller wrote Monday night that said the NCAA should be more "concerned about the women who were raped at Baylor" instead of attacking North Carolina's law that restricts the civil rights of gay, bisexual and transgender people.

Mueller also wrote: "Under the NCAA's logic, colleges should make cheerleaders and football players share bathrooms, showers and hotel rooms" and called the NCAA's decision "an assault on female athletes across the nation."

Mueller's full statement:

The statement was released a little more than two hours after the NCAA announced its decision to relocate seven events for the 2016-17 academic year. It also comes a few hours after Mueller tweeted this:

Maybe Mueller shouldn't drink and tweet emotional responses while representing her state's Republican Party.
Yes, the same Sporting News which tweeted that the NCGOP had issued an "insane statement," is the same Sporting News telling the NCGOP to not tweet emotionally.
Rich.
Of course, the NCGOP doesn't just tweet emotionally. They also tweet factually. The NCAA's promotion of gender as a mere social construct absolutely has overtones that could (and very well might) carry over to NCAA sports.
As Ben Shapiro writes in the Daily Wire:
"Now, the NCAA has every right to do this; they're not a governmental body. But this is immoral and idiotic virtue signaling. The NCAA has not invalidated any of the NCAA-sanctioned events inside the state that are not high-profile. Duke and the University of North Carolina will continue to compete in state – so if the NCAA is deeply afraid of the evil North Carolinians picking up torches and going after Caitlyn Jenner, they really ought to cancel all NCAA events in the state.

They won't.

Because they're liars and hypocrites.

They also won't disband independent male and female sports, which are cisgender and transphobic. After all, if a man wants to play for women's teams, and a woman wants to play for a men's team, why must there be separate categories? If gender is entirely a social construct, why reinforce that social construct through separate sex-specific sports?"
Exactly.