I'm going to go ahead and file this one under "You judge for yourself." But here it is.
Pro Football Talk gleefully reported on Monday, that Russell Wilson and his fiancée Ciara decided to ditch the idea of having their wedding in North Carolina. Why is that cause for glee?
Well, see for yourself: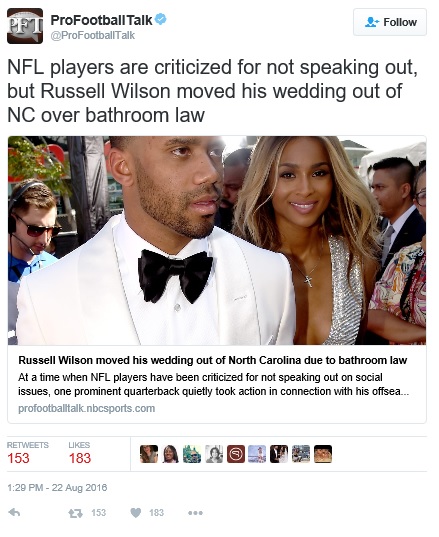 Here is how Pro Football Talk described the decision on where to have the ceremony:
"At a time when NFL players have been criticized for not speaking out on social issues, one prominent quarterback quietly took action in connection with his offseason nuptials.

Via TheKnot.com, wedding planner Mindy Weiss said that Wilson's wedding to Ciara originally was set for North Carolina, but that they changed the location due to the state's transgender bathroom law.

Paris apparently was the second choice, but it was Fashion Week. So London became the third, and final, destination.

Some will praise Wilson for not grandstanding on the issue. Others will use the gesture as further evidence that NFL players go out of their way to say absolutely nothing on anything remotely controversial, in order to offend no one."
I get it, the wedding planner says the wedding moved because of North Carolina's HB2 law, and assuming her intimate awareness of Wilson and Ciara's wishes, being their wedding planner and all, that should be taken as reflective of their desire to avoid having the wedding take place there due to politics.
However, something doesn't seem right here.
They decide to not have the wedding in North Carolina, and their second and third choices were Paris and London? Really? Full disclosure, half of my family is from North Carolina. So, this is no shot at the Tarheel State. Yet, how in the world does North Carolina compare to London or Paris as a major event destination, even without HB2? Especially, considering Ciara and Wilson have the means and ability to have a first class international wedding at any destination of their choice?
I truly hope Wilson's wedding planner just concocted this story about moving the wedding because of HB2, and that there was some other reason for moving the wedding from North Carolina. Otherwise, this is a really bad look for an athlete who professes to be a proud Christian.