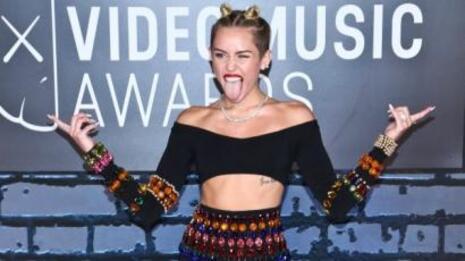 Miley Cyrus is by no means a role model for good behavior, she's been in hot water for comments she's made many times before. However, she appears to have learned a lot from her mistakes and is using her large social media platform to spread positive messages about "forgiveness and compassion." On Instagram, Cyrus offered to help rapper DaBaby "learn" from his mistakes following controversial comments he made that got him in hot water with the LGBT community.
At the Rolling Loud music festival on July 25, the rapper was speaking on stage and said, "If you didn't show up today with HIV, AIDS, or any of them deadly sexually transmitted diseases, that'll make you die in two to three weeks, then put your cellphone lighter up. Fellas, if you ain't sucking d--- in the parking lot, put your cellphone lighter up." 
This comment cost the rapper his clothing brand, he was also kicked out of the music festival Lollapalooza and openly attacked on social media by Dua Lipa, Elton John and others. Shortly after this controversy began, he released the music video for his new song "Giving What It's Supposed to Give," which includes lyrics like "B----, we like AIDS, I'm on your ass, we on your ass, b----, we won't go 'way." At the end of the video is a quote written in rainbow letters that reads, "Don't fight hate with hate. My apologies for being me the same way you want the freedom to be you."
After people weren't satisfied with his responses, on August 2, he posted a more official statement to Instagram apologizing to the LGBTQ+ community for the "hurtful and triggering comments." 
As the landing site for our country's first settlers, the foundations of our country began right here. With no shortage of historical sites and experiences, you need to have a plan to see as much of it as you can in one day. Here is how to have a day for the history books in Virginia Beach.
Miley Cyrus also shared some very supportive advice to everyone on the internet and offered to help DaBaby "learn" and gain a better "understanding" of the LGBT community. 
She wrote this on Wednesday:
The Internet can fuel a lot of hate & anger and is the nucleus of cancel culture… but I believe it can also be a place filled with education, conversation, communication & connection. It's easier to cancel someone than to find forgiveness and compassion in ourselves or take the time to change hearts and minds. There's no more room for division if we want to keep seeing progress! Knowledge is power! I know I still have so much to learn!  
DaBaby's comments were obviously very out of touch and I can see why some of the audience members were upset, but the misogynistic lyrics in his songs are arguably way more disgusting. He raps about shooting, killing, and dealing drugs but, sure, let's cancel him for one of the least crude things that he's ever said because it offended one of the most special protected classes in America.
At least we know that even some of the craziest lefties are picking up on the dangers of cancel culture. Took em' long enough.