​Social media, especially Twitter, is playing a large role in the 2016 presidential election. Though Trump has 2 million more Twitter followers than Clinton, Hollywood celebrities on Twitter have handed Clinton a major advantage.
Nineteen entertainment celebrities, who are among the 100 most-followed accounts on Twitter and collectively have more than 645.9 million followers, openly supported Clinton's bid for president. None of Twitter's top 100 account holders are wielding their social media influence for Trump.
Leonardo DiCaprio, Beyonce, and at least four of the other top-followed celebrities each donated a minimum of $2,700 to Clinton's campaign. But their cash donations paled in comparison to the prestige they brought her. Seven of the top-followed celebrities, including Christina Aguilera, Neil Patrick Harris and Britney Spears have all posted photos with Clinton on social media. Four more performed at her fundraisers.
Pop star Katy Perry, whose 91,087,110 followers make her the most-followed person on Twitter, asked her twitter audience to donate to Clinton's campaign in exchange for a chance to meet her at a Clinton fundraiser on Oct. 24, 2015.
I'M PROUD TO STAND WITH @HillaryClinton! Don't miss your chance to win a trip to Iowa to hang with me @ the rally: http://t.co/TCjPevONH5

— KATY PERRY (@katyperry) October 19, 2015
To kick off the fundraiser, Perry took over Clinton's Instagram account, posting photos of her custom Hillary 2016 manicure, and a selfie with Clinton. She took the stage in a campaign inspired dress, turban and American Flag cape to perform songs including "Roar" and "Firework." 
Perry took the stage for Clinton again in March 2016, at Radio City Music Hall in New York and also performed at the DNC on July 28, 2016, where she encouraged people to vote for Clinton to "cancel out your weird cousin's vote." Throughout Clinton's entire campaign, Perry has also continued tweeting her support.
Perry wasn't the only singer on Clinton's Twitter A-List. Though Lady Gaga only mentioned Clinton a few times on Twitter, her support elsewhere for Clinton's campaign bolstered the liberal tweets Gaga sent her followers.
Lady Gaga joined the Clinton celebrity bandwagon even earlier than Katy Perry. Gaga and Tony Bennett performed at a Clinton fundraiser in New York on June 24, 2015, where ticket prices started at $1,000. Five days later, Clinton posted an Instagram photo with Gaga sporting a "Yaaas Hillary" shirt (a play on a fan video of Lady Gaga).
When it came time for the New York primary, Lady Gaga had Clinton's back. She announced to her 61.9 million Twitter followers that she was voting for Clinton, and urged them to do the same: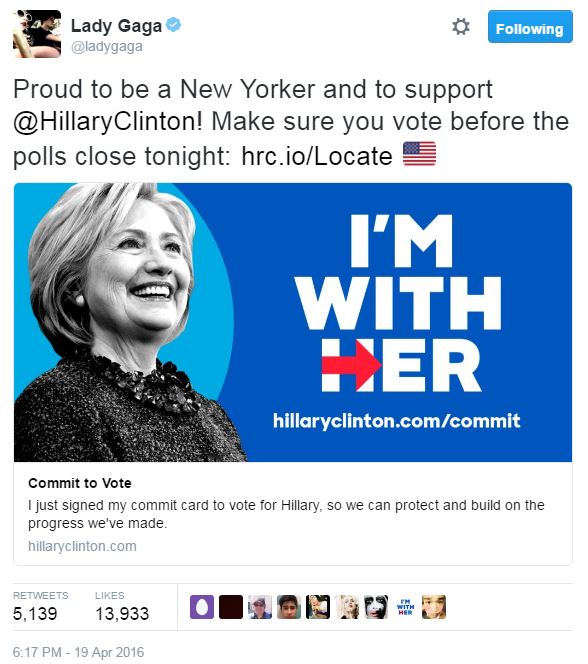 Gaga used Mother's Day as an excuse to promote Clinton:
More recently, Lady Gaga told her Twitter fans, "VOTE for the 1st female president in history."
When it came for the DNC, Lady Gaga was right there performing for at an invitation-only concert for the delegates, according to Rolling Stone.
Jennifer Lopez sang the same refrain. She promoted Clinton for president by including portions of a Clinton speech in her music video for the song "Ain't Your Mama," released in June 2016. Clinton can be heard saying "Human rights are women's rights, and women's rights are human rights, one and for all."
Clinton thanked Lopez for the video on Twitter, and Lopez replied by thanking Clinton for "leading by example."
Reminding women to stand in their own power! Thank you @HillaryClinton for leading by example #AintYourMama https://t.co/7wA4voW19n

— Jennifer Lopez (@JLo) May 7, 2016
When Clinton officially received the Democratic nomination at the DNC, Lopez tweeted that she was "moved:"
So moved! Herstory in the making tonight! @HillaryClinton #ImWithHer w/ my oh yeah #itsabouttogodown face #letsgetit pic.twitter.com/hQFxI8lziz

— Jennifer Lopez (@JLo) July 29, 2016
Demi Lovato not only attended the DNC in July, but spoke and performed as well. After, she tweeted that she was "humbled to be here," and thanked Clinton:
Had an amazing time tonight supporting @HillaryClinton at the #DemsInPhilly tonight!! #ImWithHer

— Demi Lovato (@ddlovato) July 26, 2016
Lovato's first twitter endorsement for Clinton was in Jan. 2016, when she sang at a Clinton rally in Iowa City.
Oprah Winfrey, who previously endorsed Clinton on Entertainment Tonight, tweeted her support during Clinton's July 28 speech at the DNC.
Glass ceiling Cracked Wide Open! #HillaryClinton #DemsInPhilly

— Oprah Winfrey (@Oprah) July 29, 2016
"When any barrier falls in America it clears the way for everyone.. When there are no ceilings the sky is the limit!" Bravo @HillaryClinton

— Oprah Winfrey (@Oprah) July 29, 2016
Media Obsess over Political Celebrity Tweets
Some of Clinton's celebrity fans, like Kendall Jenner, only mentioned the Democratic nominee for president once or twice on Twitter. But when they did, the media latched on to those individual tweets and spread the message further.
When Ariana Grande tweeted "Yaaas @hillaryclinton," the NY Post, E!Online, Billboard and The Hollywood Reporter all included it in roundups of celebrity endorsements. The media turned pro-Clinton tweets from Demi Lovato, Mariah Carey, and Kim Kardashian West into news stories as well.
<<< Please consider helping NewsBusters financially with your tax-deductible contribution today >>>
<<< Thank you for your support! >>>
In February 2016, Britney Spears posted photos with Hillary Clinton on Facebook, Instagram, and Twitter, accompanied by the #ImWithHer hashtag used to endorse Clinton. Within a few hours, Britney deleted the #ImWithHer hashtag, but media outlets including Huffington Post, CNN, ABC News, Entertainment Weekly and Vanity Fair heavily publicized the shred of a story, turning the one post into an internet-wide sensation.
Celebs Use Fame and Fortune to Push Fans Toward Hillary
Six of the top-followed celebrities who support Clinton outside of Twitter have yet to endorse her on the social media platform. But by other means they still encouraged their fans to support her. Together, these celebrities, including Kanye West and Khloe Kardashian, reach nearly 130 million impressionable followers. With three-and-a-half months left until the election, Clinton has plenty of time to ask for more support on Twitter, especially from celebrities who have supported her elsewhere.
Neil Patrick Harris, for example, declared #ImWithHer in an Instagram photo with Clinton in March 2016. Khloe Kardashian used her personal website to declare Clinton for president would be "fucking AWESOME," according to US Magazine.
Alicia Keys, who has more than 23.5 million followers on twitter, performed on the second night of the DNC, and tweeted about her performance at least 7 times.  Snoop Dogg also attended the DNC, and headlined a "unity party" hosted by Priorities USA Action (one of the PACs supporting Clinton).
And finally, Beyonce, Leonardo DiCaprio, and Kanye West have all attended Clinton fundraisers.
Celebrities including Amy Schumer and Kelly Clarkson, who are not in the list of top 100 followed accounts, also celebrated Clinton's nomination on twitter, and some attended the DNC in person.
Methodology: MRC Business tallied the number of entertainment celebrities in Twitter's top 100 followed accounts who endorsed or praised Democratic presidential nominee Hillary Clinton. President Barack Obama and investor Bill Gates were not included in the tally because they did not not fall into the category of entertainment celebrities.