Pimp My Show: Shuster Replaces Gregory at '1600'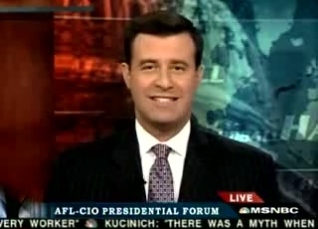 MSNBC has banished the last bastion of objectivity from its line-up of evening hosts. The network has
announced
that David Shuster [file photo] will be replacing David Gregory as host of '1600 Pennsylvania Avenue.' [H/t Mike Allen's
Political Playbook
.] Gregory, his pending Meet The Press appointment no doubt in mind, had been on his best behavior while hosting 1600. Shuster will be under no such constraints.
The evening Eastern time line-up will now be:
5 PM: Hardball with Chris Matthews
6 PM: 1600 Pennsylvania Avenue with David Shuster
7 PM: Hardball rerun
8 PM: Countdown with Keith Olbermann
9 PM: The Rachel Maddow Show
Shuster famously got himself
suspended
for suggesting that the Clinton campaign had "
pimped out
" Chelsea in the way it was using her during the primary campaign.  Beyond that, NewsBusters has chronicled many instances of Shusters's liberal bias in his role as MSNBC correspondent and sidekick to Chris Matthews.  See
here
,
here
and
here
for recent examples.
So henceforth, it will be all liberal hosts all the time for MSNBC in the evening.