Sleazy Foley Scandal Inspires Sleazy Democrat Campaign Ad, But Will MSM Care?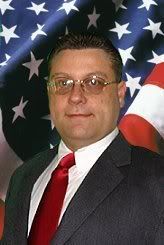 It didn't take the Democrats long to exploit the sleazy Mark Foley scandal with their own sleazy political commercial, produced in record time. In just the brief period since the Mark Foley scandal broke on Friday, a Democrat candidate from Louisiana's 1st Congressional District has already produced a campaign commercial trying to tie his Republican opponent, Bobby Jindal, in with Mark Foley. It's quite a stretch but as you can see in this campaign commercial produced for Democrat Stacey Tallitsch (pictured), the Foley connection is only part of the overall sleaziness of the video. Also included are images of a man with his head up his butt and President Bush portrayed as giving a Nazi salute. Overall, the commercial comes off as looking like it was produced by a group of crazed juveniles from the Democratic Underground.
So will the MSM denounce this sleazy Democrat campaign commercial as an example of dirty politics? Don't hold your breath. Also don't be too surprised to see other Democrats attempting to exploit the Mark Foley scandal in their own campaigns to the sounds of silence from the MSM.
(If you have problems loading the video from the link above, you can also access this Tallitsch campaign commercial by going to the Political Dogfight website and clicking on the campaign video there.)