Outrage Over 'South Park' Torture Of Saddam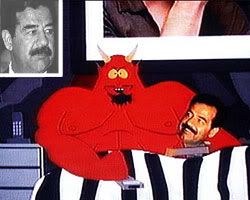 It appears that the Leftists have found themselves a new human rights cause to protest---the "torture" of imprisoned Saddam Hussein by forcing him to watch the 'South Park' movie portraying him as having a "special relationship" with Satan. Here is the report on this abuse of Saddam via Yahoo! News:
Former Iraqi dictator Saddam Hussein is being made to watch his appearance in cult cartoon South Park while he is behind bars.

The deposed leader on trial in Iraq was featured in the movie spin-off as the lover of the devil. South Park: Bigger, Longer and Uncut featured Hussein and Satan attempting to take over the world together.

Speaking at the Edinburgh International Television Festival, South Park creators Trey Parker and Matt Stone said US Marines guarding the former dictator during his trial for genocide were making him watch the movie "repeatedly".

"I have it on pretty good information from the Marines on detail in Iraq that they showed him the movie last year. That's really adding insult to injury. I bet that made him really happy," Stone said.
To get an idea of the "horrors" that Saddam is being subjected to, take a look at this VIDEO CLIP from the 'South Park' movie. (Warning: strong language and content.) Meanwhile the folks at the Democratic Underground are up in arms at over the human rights abuses against Saddam as you can see in these postings:
"We have Jumped the Shark as a nation."

"Are we, the US citizens, suppose to be proud of this?"

"When will Trey and Matt go after Bush?"
You can read more of the Leftist outrage over their latest human rights cause at the DUmmie FUnnies.