GMA's Vargas: When Will US Get on Euro/UN Bandwagon and Condemn Israel?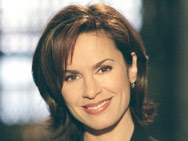 Everyone knows that when it comes to winning wars and achieving peace, the model to follow is that laid out by France, other Europeans, and the UN.
Elizabeth Vargas, steadfast Euro-UN-ophile, is savvy enough to recognize that the US needs to fall in line behind wiser heads and 'condemn or rebuke' Israel. Sadly, an obdurate Bush administration, in the person of spokesman Tony Snow, just wasn't getting the message in a Good Morning America interview this morning.
Vargas: "Tony, this is day ten now of the conflict in the Middle East and only now is the US government considering sending Secretary Rice to the region. Why waiting so long to do so?"
Snow: "Well, first, Elizabeth, you have to understand even though Secretary Rice hasn't been to the region, we've had a high-level . . . delegation . . . there last week. . . Secretary Rice thought she would wait until we had a moment  . . . when the time is ripe. Now she views this as a good time to go."
Vargas: "You mentioned European allies. The US has thus far been alone in its refusal to either rebuke or condemn Israel for its excessive force, as Kofi Annan called it last night. And in addition it has refused to call for any cessation of hostilities. At what point does the administration say to its close ally Israel, 'enough'?"
Snow: "First thing Elizabeth what you've done is flipped it backwards, making Israel the bad guy. Hezbollah started this. The finger out to be pointed at Hezbollah. Hezbollah is the aggressor."
Vargas: "All our European allies have had strong words of condemnation and the Lebanese prime minister is saying this isn't an attack on Hezbollah but on Lebanese civilians. Isn't there a danger that this could back fire and further inflame militant elements against the US?" Yeah, wouldn't want to inflame those militants. The policy of appeasement was going so great on September 10th, 2001.
Vargas: "Why not just ask for a pause at least, a 24-, 48-hour pause to give Lebanese civilians a chance to evacuate from the area?"
Snow: "One of the things that the United states and the UN has been talking about is humanitarian bridges to get in aid and get people out. But I'll ask you again: who are you going to talk to in Hezbollah to get the pause?"
BINGO!
Finkelstein lives in the liberal haven of Ithaca, NY, where he hosts the award-winning public-access TV show 'Right Angle.' Contact him at mark@gunhill.net