Oliver Stone Says Media Are Slandering Politically-Minded Celebrities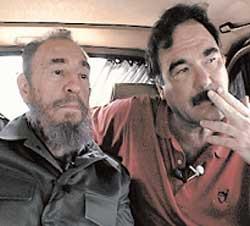 Conspiracy monger and Hollywood director Oliver Stone apparently isn't happy with how some in the media – guilty as charged! – denigrate the political views of Hollywoodians. As reported by ContactMusic.com (hat tip to Drudge), Stone "has blasted media groups who 'slander' celebrities for their political comments - because intelligent stars have every right to question their leaders." Intelligent stars? Now there's an oxymoron.
Stone, who has focused most of his film career on serious subjects, apparently missed the humor in this statement, and mercilessly continued: "'We're Hollywood wackos and all that stuff, left-wing... (It's) an easy and facile dismissal.'" And continued: "'I'm still a citizen, I've served my country as a veteran, I've had many jobs before the film business. I know something of life, having lived to this age.'" And then said something rather telling: "'We have a right to speak and every time we speak: 'You're an actor, a showbusiness director,' we're making it up!'"
Well, Oliver, didn't you apologize for some of your fabrications in the script you wrote about Billy Hayes called "Midnight Express," admitting that you actually did no research at all, and that some of the scenes in the film never occurred? And your claim in the film "JFK" that Lyndon Johnson was part of the conspiracy to assassinate the president – did you ever find any evidence that this was indeed the case, or did you make this up?
Also, didn't you sign a document in 2002 called "Statement of Conscience" drafted by the group "Not in Our Name" promising "'to resist the [U.S.] policies . . . which pose grave dangers to the people of the world,' and pledged alliance with those who come under attack?" Didn't you also suggest that 9/11 was caused by large movie studios, and that Bush let bin Laden go because the oil companies who supposedly control the president's policies didn't want to anger the Saudis?
Finally, didn't you charge that Bush stole the 2000 presidential election with the help of anti-Castro Cuban-Americans in Florida?
Yes, you're right, Oliver: the media really should take more seriously the opinions of folks like you.