AP Coverage of Failed Times Square Bomber's Sentencing Doesn't Reveal Who Trained Him (Update: Evening Story Does)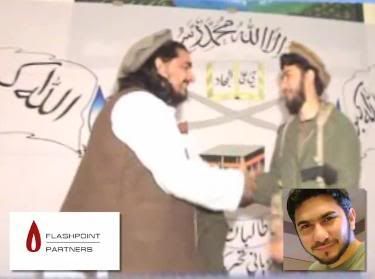 UPDATE: Did AP read this post and react? An updated AP story time-stamped at 6:35 p.m. reports the following: "He (Shahzad) said the Pakistan Taliban provided him with more than $15,000 and five days of explosives training late last year and early this year, months after he became a U.S. citizen."
(Original post follows)
The Associated Press's Tom Hays did not report who trained Faisal Shahzad in his coverage of the failed Times Square bomber's sentencing in a New York courtroom today.
The best Hays could do in his 11:25 a.m. report was to make references in his second and seventeenth paragraphs to how Shahzad went "to train in Pakistan" and "received explosives training in Pakistan," respectively. Readers not fully aware of story developments since Shahzad's arrest in May should be receiving this information. For all we know from Hays's report, Shazad may attended the Pakistani branch of the Acme School of Bomb-Making, or perhaps experimented in Uncle Abdul's attic.
The fact is that there is no ambiguity about who trained Shahzad (thankfully, not successfully). On May 9, Attorney General Eric Holder said that it was the Pakistani Taliban:
Times Square bomber Faisal Shahzad was no lone wolf - the Pakistani Taliban "was behind the attack," Attorney General Eric Holder asserted Sunday.

"We know that they helped facilitate it," he said of the shadowy terror group with links to Al Qaeda. "We know that they probably helped finance it - and that [Shahzad] was working at their direction."
On July 23, Bill Roggio at the Long War Journal showed a video of Shahzad with Pakistani Taliban commander Hakeemullah Mehsud (a picture from that post is at the top right).
So it's difficult to understand why, in roughly 600 words, Hays failed to state the importantly obvious.
Here are excerpted paragraphs from Hays's report (bolds are mine):
A Pakistani immigrant who tried to set off a car bomb in Times Square was sentenced Tuesday to life in prison by a judge who said she hopes he spends some of his time behind bars thinking "carefully about whether the Quran wants you to kill lots of people."

Faisal Shahzad's thirst for bloodshed showed no signs of waning as he and U.S. District Judge Miriam Goldman Cedarbaum sparred repeatedly over his reasoning for giving up his comfortable life in America to train in Pakistan and carry out a potentially deadly May 1 attack in the heart of Times Square.

Instead of exploding, his massive bomb in the back of an SUV sputtered, attracting the attention of a street vendor, who alerted police. The discovery set off an evacuation of the tourist-laden area and a massive investigation that resulted in his arrest two days later as he sought to flee the country.

... Shahzad offered a lecture of his own for Americans, saying he felt no remorse.

"We are only Muslims ... but if you call us terrorists, we are proud terrorists and we will keep on terrorizing you," he said.

... During Shahzad's statement, Cedarbaum cut him off at one point to ask if he had sworn allegiance to the United States when he became a citizen last year.

"I did swear but I did not mean it," said Shahzad, a former budget analyst from Connecticut who was born in Pakistan.

... Shahzad, who last year received explosives training in Pakistan to prepare for his bombing attempt, said attacks on Americans will continue until the United States leaves Muslim lands.

"We do not accept your democracy or your freedom because we already have Sharia law and freedom," Shahzad said.
Intentionally or not, Hays's work comes off as an attempt to paint Shahzad as some kind of lone wolf instead of what he really was -- a true jihadi believer working at the direction of a terrorist network. By misleading readers about Shahzad's true nature, his report is journalistically negligent and irresponsible.
Cross-posted at BizzyBlog.com.