Uncle Sam's Collections Crunch and Record Deficits Continue; Press Coverage Virtually Non-Existent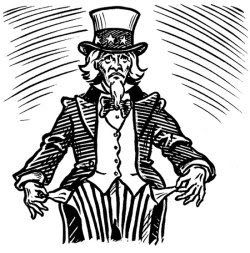 Blogger Doug Ross got to the news of the Congressional Budget Office's Monthly Budget Report (PDF) over the weekend, quite accurately observing that the establishment news coverage of its content barely existed.
The results of searches at the Associated Press's raw feed page on "Congressional Budget Office" (not in quotes) and "CBO" confirm Doug's observation, as no result returned relates to the CBO's report.
The virtual non-coverage of the report may be due to the dire, dour news contained therein, as noted by Reuters, which at least had a story:
U.S. already $292 bln in the red this year - CBO

The U.S. government racked up a gaping shortfall in the first two months of this fiscal year after posting a record budget deficit last year, congressional analysts said on Friday.

In October and November, the government spent $292 billion more than it took in, the nonpartisan Congressional Budget Office said.

That was even worse than the same period last year, when the government was on its way to posting a record $1.4 trillion deficit for the fiscal year that ended Sept. 30.
A look at the cash collections detail shows just how dire things are on the receipts side (the incorporated November total matches CBO's; current year info is from the final Daily Treasury Statements for
October 2009
and
November 2009
; prior year info can be found searching the Daily Treasury Statement's archives
here
):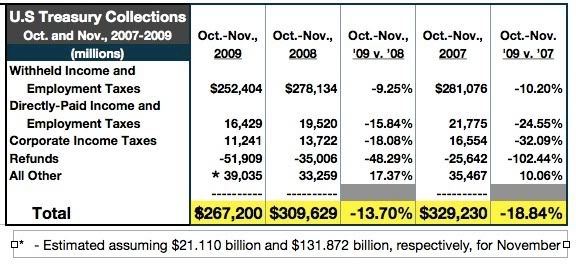 Keep in mind that CBO's August projections assumed that Uncle Sam's fiscal 2010 collections will be $2.264 trillion (PDF; go to Page X at link), or about 7.5% higher than fiscal 2009's $2.105 trillion. To get there given October's and November's actuals, receipts during the rest of fiscal 2010 will have to be 11.1% higher than the last ten months of fiscal 2009. Putting it very politely, that seems quite unlikely.
It's too early to say that this will happen, but if full-year receipts for fiscal 2010 come in 10% lower that fiscal 2009 -- even that would be an improvement on the 13.7% decline posted thus far -- the resulting $1.895 trillion in collections ($2.105 trillion x 90%) will be a whopping $369 billion short of what CBO projected ($2.264 trillion less $1.895 trillion).
On the spending side, CBO says that outlays through the first two months are $559 billion, meaning that the government has thus far spent more than double what it has taken in.
CBO's monthly advance estimates usually closely track the actual Monthly Treasury Statements, which are released on the eighth business day of each month.
Meanwhile in Washington:
Words fail.
Cross-posted at BizzyBlog.com.