Journalists Tingle as Bill de Blasio's Inaugurated in New York City With a 'Progressive Jamboree'
The inauguration of unreconstructed liberal Bill de Blasio as New York's newest mayor excited liberals hoping for a return to pre-Clinton times...and yet there were the Clintons, seeming to endorse the whole thing.

In Thursday's Washington Post, columnist Melinda Henneberger wrote on page A-2 that the event was "not just a progressive jamboree but a 90-minute pummeling of outgoing mayor Michael Bloomberg, who looked glum in the front row of the VIP guests who faced the crowd." The socialist flag was flying, and Harry Belafonte was on the set list:
First, from a lectern that seemed more like a pulpit, one speaker after another said New Yorkers could and would show the whole country how to address income inequality. A preacher referred to "the plantation called New York City,'' and Broadway's Patina Miller sang John Lennon's "Imagine."

The new city comptroller, Scott Stringer, who was also sworn in Wednesday, spoke angrily of the "squalid shelters where 22,000 of this city's children will sleep tonight." He brought one of those children, 12-year-old Dasani Coates, who was recently featured in a long New York Times article, to the stage with him, as did the new public advocate, Letitia James. She called Dasani her "new BFF," and challenged what she suggested were Bloomberg's priorities when she said the new administration "cares more about a child going hungry than a new stadium or a new luxury development." And the word "Dickensian" got more of a workout than at any time since "The Wire" went off the air.
Story Continues Below Ad ↓
Actor and activist Harry Belafonte said that New York "alarmingly plays a tragic role in the fact our nation has the largest prison population in the world'' and, as Bill Clinton nodded, said the mayor would be "fixing our deeply Dickensian justice system."

Belafonte bowed deeply to McCray, her husband's top adviser, very much in the Clintons' mold; in fact, Belafonte named her her husband's keeper. McCray's moral center, he said, would insure that de Blasio's light "will never dim for want of a guardian at the gate."
On the next page, Dan Balz wondered if de Blasio's rise was prompting a repositioning by the Clintons. (It's easy to forget, but de Blasio ran Hillary's carpetbagging campaign for the U.S. Senate back in 2000.)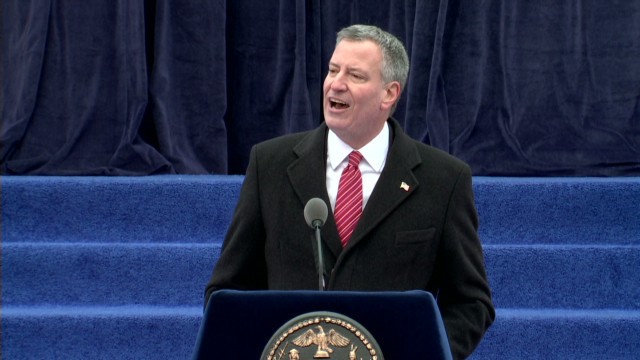 De Blasio, now one of the nation's most liberal elected officials, delivered an unabashedly progressive inaugural speech that closely tracked the themes of his "tale of two cities" campaign. It was the kind of speech not often heard in national politics since Bill Clinton redefined the Democratic Party as New Democrats....

For the rest of his address, he promised to push New York to the left, as quickly and aggressively as his political skills will allow him. "We are called to put an end to economic and social inequalities that threaten to unravel the city we love," he said. "And so today, we commit to a new, progressive direction in New York."

...As the New York Times wrote in its lead story in Wednesday's paper, de Blasio's election will turn New York into a "closely watched laboratory for populist theories of government that have never before been enacted on such a large scale."
De Blasio has become a beacon to those in the Democratic Party's progressive wing, who have often been disappointed by or disillusioned with President Obama and what he has done and not done in office. The progressives see few political leaders on the left — Sen. Elizabeth Warren (D-Mass.) is one exception — willing to give voice to their agenda. All that would be enough to lend significance to Wednesday's swearing-in. But it was the added presence of the former president and former secretary of state that gave it significance beyond the city's boundaries.

The tableau on the stage spoke to the interrelationships among the New York political elite as well as to the evolution of the Democratic Party from Bill Clinton's first presidential campaign to the present.
Balz can't be sure if Clinton is really endorsing everything that de Blasio represents -- but suggests the Clintons are repositioning to the Left. The "Bill de Blasio moment" will be a good opportunity to separate the true socialists in the media elite from the more conventional partisans who worry that the Democrats will be pushed too far to the Left to be electable. After all, journalists never tire of suggesting the Tea Party is too far right to help the Republicans. Why wouldn't they suggest de Blasio is a similar danger for the other side?