Reuters Writer Lauds Hugo Chavez Vulgarities in Vulgar Story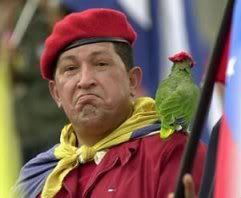 If you heard the leader of a country cursing in public like a drunken sailor (or Randi Rhodes), you would think he is somewhat unbalanced. However, according to Reuters writer, Charlie Devereux, a foul mouth in a nation's leader is something to be lauded if that leader happens to be Hugo Chavez of Venezuela. In fact, Devereux even cites Chavez's foul mouth as a key to his success in a story that brings up topics and words in a bid to attain a level of crudity rarely  heard in a wire service article:
CARACAS (Reuters) - A head of state describing a mobile phone by using a crude term for male genitalia would spark outcry in most countries, but in Venezuela such language is a big part of President Hugo Chavez's popular appeal.
Chavez has made vulgar language and insults a trademark of his decade in power. He once told the country he would have sex with his wife when he got home that day, has called Americans "sh**s" and described former U.S. President George W. Bush as "the devil" and a "donkey."
Your humble correspondent added the asterisks in "sh**s." In the original story it is spelled out in all it all its "glory."
So it was no great surprise when he recently called the first cellphone to be made in Venezuela the "vergatario," a word derived from a popular slang term for penis.
"Thank you" for that information, my penile obsessed Reuters friend. Devereux then makes the case that such lewdness is the key to Hugo's popularity by claiming that he is only mirroring the lewdness of Venezuelans themselves.
Venezuelans use a particularly lewd version of Spanish packed with references to male and female reproductive organs, genital lice and sexual orientation, and Chavez -- apparently deliberately -- does not seek a more dignified presidential tone.

Last year, he launched into a lengthy description of his bowel functions during a televised address.

On the streets of Caracas, it is not uncommon to hear mothers refer to their children as "conitos" a diminutive that refers to female genitalia. Such words are now so commonplace that they have all but lost their original meaning and power to shock.

"Venezuelans love that florid and elaborate language full of jargon and slang words," says linguist Manuel Bermudez of the Venezuelan Academy of Language, adding that Chavez plays on it deliberately. "It's calculated; that kind of discourse reaches the people."
Gee, perhaps Barack Obama should start taking cursing lessons from Randi Rhodes. Of course, there do seem to be Venezuelans not exactly enamored with the foul language used by their chief:
"The way he talks is very crude and it makes me feel ashamed," said Maria Luisa Garcia, a 70-year-old social worker from the fashionable Los Palos Grandes neighborhood in Caracas. "A president needs to project a good image."

"In a country where the majority of people are young, the language he uses is an influence on everyone else. It's for that reason that everyone has become ruder."
Anyway, "congrats" to Reuters writer, Charlie Devereux, for managing to produce a wire service story that included both the words "penis" and "sh**s" without the asterisks. Oh, and bonus points for also including bowel functions.