The national media love to appear deeply cynical about politicians and their phoniness. But not when it comes to Barack Obama and "gay marriage." Obama campaigned in 2008 by publicly opposing it, and yet no one in the media condemned him like he was one of those troglodyte social conservatives -- because no one believed he was sincere. Now Obama is signaling to the gay Left that he's really in favor of "gay marriage," but few in the media are noticing.
ABC's The Note reported on Tuesday that President Obama sent a letter of congratulations to two men who were legally married in New York, but there's been no reporting on this story on the network airwaves or in the nation's leading newspapers:
Matt Katz, 32, and Aaron Lafrenz, 36, were married at the Katz family's Brooklyn home on July 23, 2011, the day before gay marriage became legal in New York state. The following day, the two went to Brooklyn borough hall and were among the first gay couples to legally be married in the state.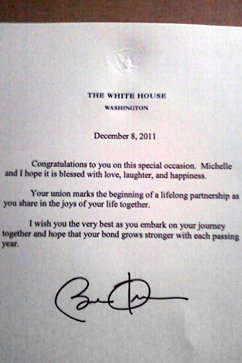 This December, Katz and Lafrenz received a letter in their mailbox with the White House seal indented in the paper and the signature of one Barack Obama on the bottom. Obama has been opposed to gay marriage in the past, though he has recently said his views on the topic are "evolving."
Katz told ABC News today that a family friend, Arlene Weinstock, had requested the letter on their behalf after hearing that the White House would take requests upon the passage of the New York gay marriage bill. Weinstock, of Long Beach, Calif., assumed that the request had not been fulfilled when the couple hadn't heard from the White House during the summer, but realized today that she was the cause of the mysterious presidential salutation.
"I was so super confused," Katz said, noting that he was not a major political activist and had no strong ties to gay rights groups. "But Aunt Arlene called me up and said, 'This is my fault!'"
The White House confirmed to ABC News that they sent the letter.
The letter reads, in part, "Your union marks the beginning of a lifelong partnership as you share in the joys of your life together. I wish you the very best as you embark on your journey together and hope your bond grows stronger with each passing year."
Katz said he was happy to receive the letter, but acknowledged the president is probably looking to shore up the gay vote ahead of the 2012 election.
"I do think he's trying to (pander), but I don't blame him," Katz said. "At this point, this is not necessarily a ploy but he can't for public office reasons be on one side, so maybe this is his way of winking at the gay public in New York and saying I really need your vote now."