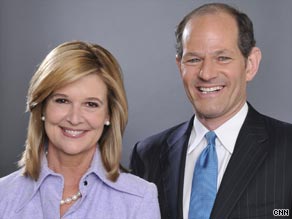 Kathleen Parker's campaign to become the female version of Joe Scarborough -- a pseudo-conservative bowing before liberal media people to get and/or keep a cable talk show -- was noticed by MediaBistro's Fishbowl DC blog in a post titled "WaPo's Parker Puckers Up to Ezra, Post, and Other JournoListers." Betsy Rothstein wrote:
WaPo conservative columnist and soon-to-be right-wing CNN talk show host Kathleen Parker took time over the weekend to kiss up to WaPo liberal blogger Ezra Klein and anyone who believes the contents of the Journolist ought not go public.

As Parker acknowledges in her column, there were "mean quotes" on Rush Limbaugh, Fox News and former Alaska Gov. Sarah Palin on the Journolist, she dismisses their importance. "Scandalous? Sure, if you want it to be," she writes.

She paints D.C. journalism as an atmosphere in which one day you're hunting, and one day, you're hunted. "Do we resign ourselves to the new reality -- that no one is ever to be trusted -- and keep our thoughts to ourselves?" she asks. "The answer implied by the events here described suggests a country in which few of us would want to live."

Parker, who calls Klein a "prodigal blogger," and "ripened" journalist who has become "high level," fails to mention Klein's own leaky behavior regarding Journolist.

As we reported last week, Klein (just last week) outed The Hill's Gautham Nagesh as a former Journalister while at The Daily Caller." In a separate post, Klein revealed presumed private e-mails from The Daily Caller's Editor-in-Chief Tucker Carlson. Klein wrote that the exchange with Carlson was not private -- but the e-mails between Klein and Carlson were presumed to be private.

(Is this that so-called world in which Parker does not want to live?)
PS: Parker left out Post blogger Greg Sargent, who recently played the game of "I know you are, but what am I?" on the conservative media: "The real story here is that right wing media are engaged in a coordinated, conspiratorial effort to pretend that J-List proves that there is a Vast Left-wing Media Conspiracy, when the evidence conclusively shows otherwise."