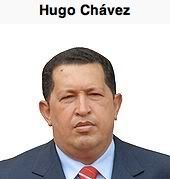 Late last year,
a story
carried by the wire service AFP reported on an announcement by Venezuela's Hugo Chavez that his government would launch "a new chain of government-run, cut-rate retail stores that will sell everything from food to cars to clothing." Chavez reportedly said that these "discount socialist stores" would show people "what a real market is all about, not those speculative, money-grubbing markets, but a market for the people."
This initiative was on top of Chavez's creation of Mercal (link is to the Venezuelan home page, complete with "The Bolivarian Government of Venezuela" logo), a state-run network of grocery stores, seven years ago.
How is this great leap forward into state control working out? A June 18 Reuters dispatch carried at CNBC reports that the government can't even keep its food fresh. But that's okay. The wire service takes a while to get there, and even then a bit of interpretation is necessary, but eventually we learn that the Chavez "solution" to that thorny problem is to seize replacement goods from private merchants:
Hugo Chavez Spearheads Raids as Food Prices Skyrocket

Mountains of rotting food found at a government warehouse, soaring prices and soldiers raiding wholesalers accused of hoarding: Food supply is the latest battle in President Hugo Chavez's socialist revolution.