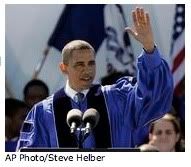 Yesterday, in the midst of
the commencement address
he delivered at Hampton University, President Obama made a startling "admission" (readers will see why "admission" is in quotes shortly):
And meanwhile, you're coming of age in a 24/7 media environment that bombards us with all kinds of content and exposes us to all kinds of arguments, some of which don't always rank that high on the truth meter. And with iPods and iPads; and Xboxes and PlayStations -- none of which I know how to work -- (laughter) -- information becomes a distraction, a diversion, a form of entertainment, rather than a tool of empowerment, rather than the means of emancipation. So all of this is not only putting pressure on you; it's putting new pressure on our country and on our democracy.
There are more troubling overtones inherent in the excerpt that many observers have already noted. I'll stay away from them for the purposes of this post.
Those matters aside, there are still a few pesky items that arise from the bolded portion of the excerpt.