You Stay Classy, Rog: Ebert Misinterprets Cable Ratings to Bash Fox Viewers as 'Indifferent to Japan'
Demonstrating the ability to go unhinged without provocation, movie critic Roger Ebert looked at this Hollywood Reporter item discussing CNN's audience increase on Friday as an excuse to tweet the following at about midnight Eastern time last night: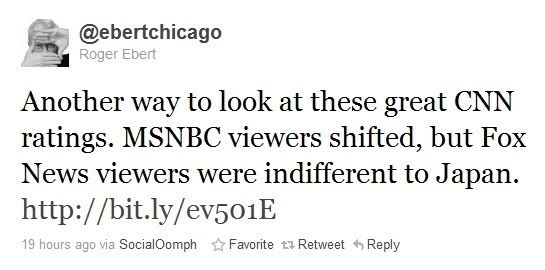 As poster "Hollywoodland" at Andrew Breitbart's Big Hollywood pointed out, Ebert's link doesn't even support his claim.
Looking at more comprehensive numbers, let's compare Media Bistro's cable news scoreboards for Friday, March 11 to Friday, March 4. One sees that while CNN's viewership went up astronomically, Fox's viewership also increased quite substantially (all figures presented are March 11 vs. March 4):
Total Day, All viewers, CNN -- 2.532 million vs. 495,000, up 412%
Total Day, 25-54 Demo, CNN -- 1.100 million vs. 169,000, up 551%
Total Day, All viewers, Fox -- 2.273 million vs. 1.381 million, up 97%
Total Day, 25-54 Demo, Fox -- 724,000 vs. 368,000, up 97%
Prime Time, All viewers, CNN -- 2.645 million vs. 582,000, up 354%
Prime Time, 25-54 Demo, CNN -- 1.163 million vs. 242,000, up 381%
Prime Time, All viewers, Fox -- 2.719 million vs. 2.069 million, up 31%
Prime Time, 25-54 Demo, Fox -- 754,000 vs. 488,000, up 55%
Further contradicting Ebert's claim, MSNBC's numbers compared to the other two cable networks barely budged. Each of MSNBC's four March 4-11 audience metrics grew by less than 25%.
If Ebert has a point, it's escaping anyone who looks at the numbers.Ebert also seems to think that the mere act of turning the TV on is some kind of proof that you care, i.e., that you're not indifferent. Zheesh.
Cross-posted at BizzyBlog.com.