Name That Party: AP Follows Predictable Script in Revealing Former Ohio Dem AG's Impending Guilty Plea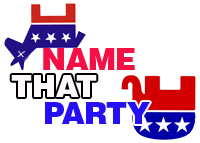 Consistency, thy name is AP.
The Associated Press's story roll-out on former Ohio Attorney General Marc Dann's anticipated guilty pleas to ethics violations followed the usual script:
The initial report, carried here at Cleveland.com, failed to mention Dann's Democratic Party affiliation.
A later extended report breaks down and reveals Dann's party membership in its ninth of eleven paragraphs.
Meanwhile, the local Columbus Dispatch, which would be less obligated to reveal Dann's party affiliation because its readership is more likely to already know it, told readers Dann is a Democrat in the second paragraph of its coverage.
The name of Ohio's governor, Ted Strickland, doesn't show up anywhere in either entity's coverage.
Here is most of the AP's brief initial story by reporter Andrew Welsh-Huggins:
The former Ohio attorney general who resigned after a sexual harassment scandal is expected to plead guilty to ethics violations involving improper payments to staff.

A law enforcement source familiar with the investigation tells The Associated Press that Marc Dann will plead guilty in Franklin County Municipal Court Friday to two misdemeanors.

The source spoke on condition of anonymity because the charges had not been formally filed.

The charges involve payments Dann made from his campaign fund to staff members for living expenses and a $5,000 loan he made from his elected office's transition account to a staffer.
In his longer story, Welsh-Huggins did the party avoidance dance until Paragraph 9, missing several obvious opportunities that arose before then:
Dann, a former Youngstown lawyer and Democratic state senator, was elected in 2006 as part of a Democratic sweep of four of five statewide offices. He beat former Attorney General Betty Montgomery, who was trying to win back her position after serving as state auditor for four years. Montgomery, a popular Republican, was historically the top vote-getter in statewide elections.

Dann admitted having an affair with a subordinate and later resigned in May 2008 following a sexual harassment scandal in his office.

At the time the scandal became known, (Leo) Jennings and (Anthony) Gutierrez were sharing the condo with Dann. Investigations found evidence that the three men hosted young female staffers on the premises, sometimes for alcohol-laced pizza parties. One of the alleged harassment incidents took place there.
Meanwhile, James Nash at the Dispatch got to party affiliation pretty quickly:
Former Attorney General Marc Dann is expected to plead guilty Friday to two misdemeanor counts of illegally padding the income of two aides and failing to report some of his own income on disclosure forms.

Dann, a Democrat who resigned after a scandal in his office two years ago, could face as much as a year in prison and $2,000 in fines. He also would be barred from state office for seven years.
The AP story is likely to be read outside of the State of Ohio, which would seem to dictate that it would want to inform readers who otherwise wouldn't know what party Dann represents. But the wire service has been doing the opposite for so long that one almost can't help but conclude that it's deliberate, and that there is not intent to ever change -- which mandates that it be exposed here so that at least a few readers outside of Ohio get the full truth.
Cross-posted at BizzyBlog.com.