Follow-up: WWF Glacier Claim 'Regret' Statement Inaccessible at Its U.S. Web Site (see Update)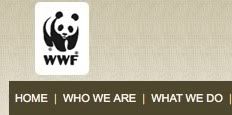 At NewsBusters last night, Noel Sheppard posted about a UK Daily Mail report that "A scientist responsible for a key 2007 United Nations Intergovernmental Panel on Climate Change report warning Himalayan glaciers would be completely melted by 2035 has admitted that the claim was made to put political pressure on world leaders." Noel also noted that U.S. media coverage of this damning admission has been sparse.
The basis for the now-discredited claim was "a 2005 report by the environmental campaign group WWF (World Wildlife Fund)." Further, the WWF report contained a basic math error causing it to assert that "one glacier was retreating at the alarming rate of 134 metres a year should in fact have said 23 metres."
The Daily Mail reported that "Friday, the WWF website posted a humiliating statement recognising the claim as 'unsound', and saying it 'regrets any confusion caused'."
The statement must be humiliating, because if its text is anywhere on a WWF web site, it seems to be well-hidden, and perhaps deliberately so (see Update at the end of this post).
The most recent entry at WWF-US's Climate Blog is an announcement that "Earth Hour" is returning this year in March (oh boy) dated January 21 at 6:55 a.m.
As you'll see from the left side of the graphic that follows, the list of Recent Blog Posts shows that four other posts have been created since the Earth Hour post. The right portion of the graphic shows what happens when you click on the "After Slipping on Himalayan Glaciers, IPCC Reaffirms Commitment to High Standards and Thorough Review" in the Recent Blog Posts list: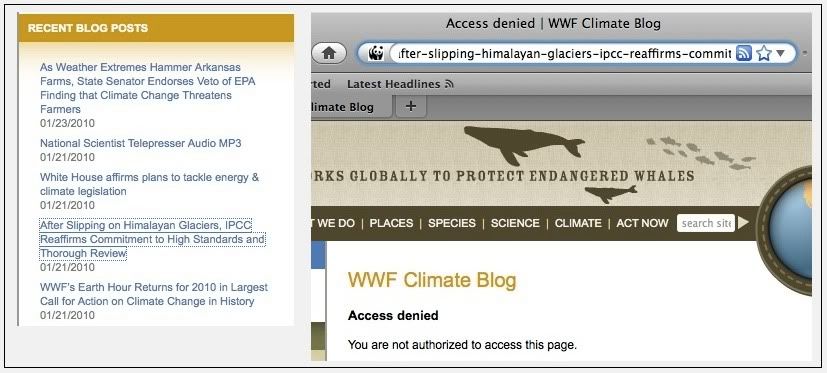 I even became and then logged in as a registered user in an attempt to work around the access denial. Nothing changed.
Now it's true that two of the other three more recent posts are also inaccessible. But the "National Scientist Telepresser Audio MP3" link works fine, as does the audio when you go there. I did not get access denials on several older posts I clicked on at the WWF's Climate blog.
Multiple attempts to search the WWF's UK site for anything relevant to the statement of regret using various word strings came up empty. (See Update below)
A Google search on ["regrets any confusion caused" glaciers] (input as indicated between brackets) came up with no WWF links, nor did a similar search using "glacier" in singular form or replacing "glacier" with "WWF."
It seems more than a little convenient that WWF's "humiliating" statement of regret is inaccessible. I wonder if and when it will ever reappear? Further, I wonder how the establishment press would handle a conservative organization that had a humiliating statement acknowledging its mistakes hidden from view?
Maybe they should rename it the Worldwide Weasels Fund.
Cross-posted at BizzyBlog.com.
UPDATE: NB commenter Locutus has located WWF-UK's statement. I was unable to locate it earlier today because my searches at the UK site used the word "regrets" instead of "regret" based on the Daily Mail's reported quote. 
WWF's U.S.-based Climate Blog still denies access to its related Himalayan glacier post, supporting the notion that it would prefer that as few people as possible in the U.S. learn of their grievous error. With the help of the U.S. establishment press, they will probably largely get their way.