Name That Party: AP and Pennsylvania Press Fail to ID Party of Third Guilty-Pleading Judge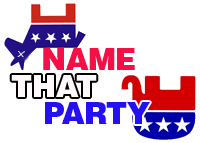 Well, you can't say they aren't consistent.
Two brief AP dispatches from December 2 and December 3 about Michael Toole, a Pennsylvania judge who has agreed to plead guilty to corruption-related charges, fail to mention that Toole has at least been a contributor to the Democratic Party, and appears very likely to have been a party member.
This see-no-party treatment parallels local media coverage of Toole's situation (four of many examples are here, here, here, and here). As far as I can tell, no one has directly identified Toole's party affiliation.
It wasn't easy to ascertain that Toole is a more than likely a mule. The best online evidence of his party affiliation consists of a March blog post at Sights on Pennsylvania identifying contributions by Toole to the Luzerne County Democratic Party in 2003. Whether Toole is actually a registered Democrat, or was until shortly before his legal troubles began, is supposed to be AP's and other journalists' job to determine -- and report.
The wire service refers to Toole as a "third judge" to be hit with corruption charges. As previously noted several times at NewsBusters and BizzyBlog, the other two, Mark A. Ciavarella Jr. and Michael T. Conahan, are definitely Democrats. The AP actually said so in an early dispatch about the pair's indictment in February, but removed mention of their party membership a short time later; graphic proof that this occurred is at the earliest related post at (here and here) at each blog. As far as I can tell, the pair's party affiliation has not since been mentioned in an AP report.
Here is the full December 2 AP dispatch, followed by an excerpt from December 3:
(December 2)

A third judge in northeastern Pennsylvania has been charged with corruption on the bench.

Federal prosecutors on Wednesday filed fraud and tax charges against Luzerne County Judge Michael Toole. Court documents indicate he will plead guilty.

Prosecutors say Toole "corruptly abused" his position by concealing his financial relationship with an attorney who appeared before him in court. They say the 49-year-old judge "improperly ruled" in the attorney's favor in an arbitration case.

Two other Luzerne County judges were charged in January with accepting millions of dollars in kickbacks to place youth offenders in privately owner detention centers.

A total of 20 people have been charged this year in a wide-ranging federal corruption probe in Luzerne County.

(December 3)

Pennsylvania's highest court says a Luzerne County judge can no longer take any official action a day after he was charged in a federal corruption probe.

The state Supreme Court on Thursday relieved Judge Michael Toole of all judicial and administrative duties. His salary and benefits aren't immediately affected.
The best evidence that only Democratic Party officials and members are involved in the apparent cesspool of corruption in Luzerne County is this paragraph from a pre-election report at CitizensVoice.com in October 2009:
The Republican Party's campaign theme – that the corruption scandal is a symptom of longtime one-party Democratic rule in the county - could resonate with independents and disaffected Democrats. Conahan, Ciavarella and the five other elected officials charged in the probe are registered Democrats.
All told, 20 people including those not in public office have been charged thus far, according to this party ID-free list compiled by TimesLeader.com.
Perhaps NB and BizzyBlog readers more familiar than yours truly with the goings-on in Northeast PA can serve the cause of public knowledge by identifying in the comments, preferably with supporting links, the party affiliation of those on the list who have not already been clearly ID'd (i.e., all except Ciavarella and Conahan, whose offenses involve placing juvenile offenders into detention centers in return for millions in kickbacks). The AP and the local press in that area apparently can't or won't do it, so someone will have to do it for them.
Cross-posted at BizzyBlog.com.