ACORN Selects 'Investigator' Instead of the 'Auditor' It Promised; AP Cooperates With the Water-down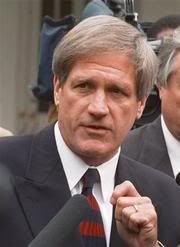 Last Wednesday, ACORN CEO Bertha Lewis promised that her organization would conduct a "total audit," and would name an independent auditor by Friday ("within 48 hours"). Later, it said it would do so yesterday. 
The group finally acted today, in totally underwhelming fashion. We're not going to get a "total audit" after all. Instead, there's going to be an "internal investigation," and it will be conducted by former Massachusetts Attorney General Scott Harshbarger. 
If this were a Republican group, or if the press were doing its job, this change in mission would be correctly labeled a watered-down cop-out. Instead, the Associated Press's Sharon Theimer played along with it and made no reference to ACORN's high-minded promises last week.
Here are key paragraphs from Theimer's report:
ACORN names former Mass AG its investigator

The community activist group ACORN said Tuesday it has selected a former Massachusetts attorney general to investigate its housing program and other public service projects after employees were caught on video giving advice to a couple posing as a prostitute and pimp and Congress moved to cut off its federal funding.

Democrat Scott Harshbarger, a lawyer whose specialties include corporate governance, will conduct the internal investigation. ACORN said the review would be "aggressive, thorough and far-reaching."

"I took over this organization in the summer of 2008 with a mandate to modernize and reform the nation's largest community organizing network," ACORN chief executive Bertha Lewis said in a written statement. "We have strengthened our systems on a number of fronts. But that process is ongoing."
Theimer "cleverly" left out the words "several times" in reference to the undercover videotapings done by James O'Keefe and Hannah Giles in her first paragraph. Though she mentioned "other cities" in her fifth paragraph, she compounded her "cleverness" by only specifically referring to the pair's Brooklyn work, not naming Baltimore, Washington, San Bernardino, or San Diego. Finally, she allowed ACORN to dispute the veracity of the Brooklyn video when it has presented no concrete contrary evidence that I am aware of in the eight or days since that video first appeared.
All of this will give newcomers to the story the incorrect impressions that Brooklyn remains a "he said, she said situation," and that the others have similar problems (which they don't). I do not believe this pathetic treatment by Theimer is an accident.
As to Harshbarger, here is how Theimer describes him in later paragraphs:
Harshbarger's inquiry will include ACORN's housing program, tax preparation program and other public service work such as screening for benefits like food stamps.

Harshbarger was Massachusetts attorney general in the 1990s. He later ran unsuccessfully for governor before becoming head of the government watchdog group Common Cause, where he pushed for tougher campaign finance laws.

Harshbarger currently is an attorney in Boston with the law firm Proskauer Rose LLP, where his specialties include corporate governance and corporate defense and investigations. He was a fundraiser for former North Carolina Sen. John Edwards' 2008 presidential campaign, and donated $2,800 to Obama's campaign after Edwards left the race.
Not bad, but as I noted at BizzyBlog earlier today, there's a major oversight in what Theimer chose to tell us about Harshbarger. You see, he is the attorney general who put away the Amiraults.
Here's a memory refresher:
Harshbarger found public prominence and political success, like Janet Reno, by prosecuting cases in the day care sex abuse hysteria of the 1980s. He obtained the conviction of Gerald Amirault and other employees of the Fells Acres Day Care Center in Malden, Massachusetts. The Amirault conviction has been widely criticized as a gross miscarriage of justice by publications as politically diverse as The Wall Street Journal (e.g., April 30, 2004) and The Nation (e.g., Feb. 28, 2002).
The Wikipedia excerpt understates the heinous nature of the Amirault case. No one other than those in the case who were brainwashed at the time by clever shrinks seriously believes the Amiraults were guilty. Harshbarger's sham prosecution can perhaps be excused given the hysteria at the time, but his refusal to back down when it became obvious after their conviction that he had railroaded the family is unforgivable, and should have kept him out of consideration for the job he accepted.
In terms of the task at hand, ACORN's Lewis either deceived everyone last week, or subsequently learned the hard way that no auditor worth having was willing take on the business and reputational risk of attempting a "total audit" of an organization with well-known sordid history, a pervasive lack of internal controls, and, apparently, serious tax problems.
That Theimer played along with the mission change to a mere "internal investigation" without questioning what happened is disgraceful. Despite last week's promise of an "audit," that word appears nowhere in her report.
Sadly, this is all too typical for what has become the Apparatchik Press.
Exit question: Where will Harshbarger's staff, whose numbers will have to be substantial if anything resembling a decent "investigation" is to occur, going to come from? 
(Image is from Theimer's AP report.)