Radio Critic Reveals 'Dirty Little Secret' of Rush Limbaugh's Success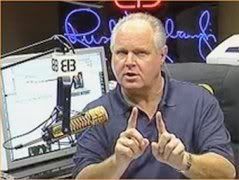 Shhh! Put on your dark conspiratorial shades. Radio critic Bill Mann has revealed the highly classified "secret" of Rush Limbaugh's success in his Huffington Post blog. The information is so top secret that it has heretofore been known only to people even slightly familiar with the radio business. Listen as Mann whispers the "dirty little secret" in public:
Ever wonder why Rush "Boss" Limbaugh's syndicated radio show is all over the place like the proverbial cheap suit?

If you do much driving in rural areas -- e.g. between cities -- "Boss" Limbaugh's bloviations are often the only thing you can pick up on a car radio. Hey, that's what CD players are for.

Did Rush accrue hundreds of local radio affiliates across the country because his political views are mainstream? That's obviously not it. OK, so why IS his show so "popular?" Why do hundreds of stations around the country carry his show, the most widely syndicated talkfest in the country?
Yes, "obviously" not mainstream...at least to leftwing loons like Bill Mann. However, I better not interrupt him. He's on a comedic roll:
The real story is not generally well-known. The only reason I know is through my covering the business of radio for years for several major daily newspapers and also, for industry trade magazines like Radio World.

It's because -- ready for this? -- Rush's show was, and presumably still is, given away for free to many local radio stations.
GASP! That explains it all. Why even a person with permanent laryingtus or the communications skills of Mario Cuomo could hit it big on radio by just giving away his show for free.
This shocker is because of a little-known practice in broadcast syndication called a "barter deal." (Barter deals were briefly mentioned in Michael Wolff's first-rate recent piece on Rush in Vanity Fair).

Here's how a barter deal works: To launch the show, Limbaugh's syndicator, Premiere Radio Networks -- the same folks who syndicate wingnut du jour Glen Beck -- gave Limbaugh's three hours away -- that's right, no cash -- to local radio stations, mostly in medium and smaller markets, back in the early 1990's.

So, a local talk station got Rush's show for zilch. In exchange, Premiere took for itself much of the local station's available advertising time (roughly 15 minutes an hour) and packed the show with national ads it had already pre-sold.
Shame on Rush Limbaugh's radio syndicator for being market savvy.  Why couldn't they have been more inept in the interest of fairness? And if you thought Mann's thoughts have been bizarre so far, then stand by as he goes into full moon mode:
Major-market right-wing talk stations, like San Francisco's KSFO-AM ("Reichstag Radio") have to pay actual money, of course, to carry Boss Limbaugh's daily proclamation-a-thon. (Note: KSFO, which I referred to as "Sieg Heil on Your Dial" in my column when it first switched to righty talk, is the same station that gave hatemonger Michael Savage his first radio megaphone). 

...So, when you hear Rush bellowing as you're passing through Birdseed Junction, Beanblossom, or Pyrite, just remember: The radio station's getting what it paid for. Or, more accurately, DIDN'T pay for.
What they get is a larger audience along with larger ad revenues. However, explaining reality to Bill Mann is a tough proposition. Many commentors on the Huffington Post also think Mann took leave of his senses:
HAHA you guys on here kill me....if this was the whole truth and the only reason Rush is on all these stations is they "gave the show away" then it wouldn't last. To get people to advertise on a show you need listeners or the sponsorships go away. Which means the show would die. If the show is growing and copanies keep scrambling to put up commercials that means people are listening. It is more simple than you are trying to make it out to be.

Wow...Rush is using a "diabolical secret plan" that is only used by Opra, and lots and lots and lots of other radio and TV shows.
Even folks who dislike Rush think Bill Mann's position is silly:
This article is a bit silly. Yes, Limbaugh's show is ridiculous, but it gets attention and obviously entertains a fair number of people. Bartering is a standard business models for shows that are trying to expand their syndication. If you want someone to take you, you offer your show for free. But what good is having a free show that nobody listens to? Nobody would hear the sponsors' ads and you'd lose advertisement revenue. Any show can barter itself. But only a successful show that gets ratings can barter itself successfully. A show still has to get a following in order for a local station to consider using up air time for you (even if your show is free). The point is, this article's thought process is a bit simple-minded. Anybody can follow this same business model. It's actually a pretty shrewd model.
Of course, flat out jealousy could explain Bill Mann's absurd conspiracy theory. His HuffPo bio states that he once hosted a radio show. What happened, Bill? You couldn't even give it away for free?