SF Chronicle Writer Warns of Global Warming Shellfish Invasion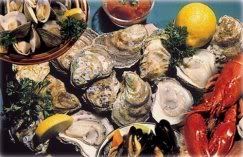 The shellfish are coming! The shellfish are coming!
In our previous episode of Global Warming Alarmist Theater, All Creatures Slithering and Slimy, we saw alarmist forecasts about how giant snakes would take over America. In the current episode, All Creatures Creepy and Crawly, written by San Francisco Chronicle "science" writer David Perlman, he relays a prediction of a Pacific Ocean shellfish invasion of the North Atlantic:
Pacific Ocean shellfish - the mussels and snails, the clams and cockles - are heading for a mass invasion into the North Atlantic that could alter the entire ecology of both oceans as sea ice vanishes from the warming high Arctic, two California scientists predict.

It has happened at least once before, the scientists say - about 3.5 million years ago, when a relatively brief period of natural global warming kept the Bering Strait open and hundreds of species of marine life migrated from the Pacific through the ice-free Arctic Ocean to colonize the Atlantic. The genes of many animals - both shelled and finned - formed hybrid species after that long-ago invasion during the Pliocene epoch.

Geerat J. Vermeij of UC Davis and Peter D. Roopnarine of the California Academy of Sciences in San Francisco describe what they call "the coming Arctic invasion" in the current issue of the journal Science.

According to climate models of the Intergovernmental Panel on Climate Change, which monitors global warming and its effects, the Arctic Ocean will become virtually ice-free by 2050 as global warming continues. And many climate experts and scientists, including Vermeij and Roopnarine, calculate that it's likely to be under way in little more than 20 years.
So the Arctic Ocean will become virtually ice-free by 2050? What happened to the global warming alarmist predictions of just a few months ago that the North Pole would become ice-free this summer? Oops! Never mind. It turned out that the Arctic ice shelf actually increased this summer by nearly a half million square miles over last year. Fortunately for Perlman and other global warming alarmists, most of us won't be around in 2050 to check on the latest ice-free Arctic prediction.
So I guess we can look forward to an Arctic seabed covered with shellfish. Mussels, and clams, and cockles! Oh my!  Don't miss the next episode of Global Warming Alarmist Theater, All Creatures Creepy and Crabby, in which the Arctic seabed is overrun by Alaskan King and Snow crabs.
Burp!
UPDATE: Should you think that your humble correspondent exaggerated a bit with the titles of the Global Warming Alarmist Theater episodes, then check out this title actually used by Scientific American in their report on the same story---Invasion of the crustacean snatchers.