Hillary Says She's Happy to Have Ann Coulter's Vote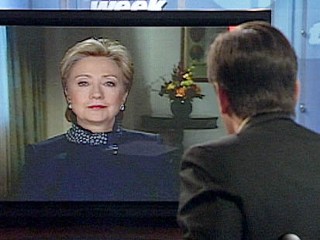 As NewsBusters reported Saturday, conservative author Ann Coulter told Fox News's Sean Hannity that she will campaign for Hillary Clinton if John McCain wins the Republican presidential nomination.
On Sunday's "This Week," ABC's George Stephanopoulos, a former Clinton adviser, asked the junior senator from New York the following question concerning this matter:
What do you make of the fact that Ann Coulter says she's going to support you if John McCain gets the Republican Nomination?
Hillary responded (video available here):
Well, that this will be an interesting election all the way through, George. You never know. Strange bed fellows and all of that. But I honestly believe that it would be a tremendous contest between Senator McCain and myself. I think I can draw the contrast and stand on that stage with him. You know as well as I do that at the end of every election, independent voters are often drawn back to a fundamental question. Who can protect and defend the United States of America. And although security is not foremost on the agenda there is no predicting what the agenda will look like come next fall. And I believe that I am much better positioned by record and experience, by you know the values and the opinions that I've expressed in this campaign, to go one-on-one with John McCain. And you know, at some point, I'm happy to have any voters although this one took me somewhat by surprise.
Frankly, I'm surprised she didn't cry during this exchange.