Nets Ignore Lowest Congressional Approval Rating in 33 Years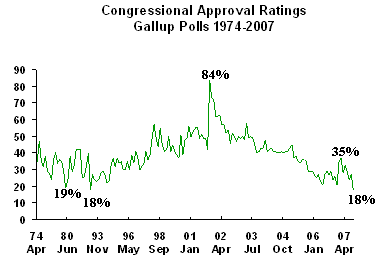 If George W. Bush's approval rating hit a low point for any president in 33 years, do you think the network evening news programs would have reported it?
Maybe as the lead story, right?
Well, a new Gallup poll was released on Tuesday stating that the approval rating for Congress tied the lowest point since Gallup began tracking such a thing, and none of the broadcasts networks thought it was newsworthy last night.
The likely reason for the boycott, beyond the obvious fact that the Democrats are now in control, is that much of the recent decline in this favorability has come from Democrats and Independents (emphasis added):
A new Gallup Poll finds Congress' approval rating the lowest it has been since Gallup first tracked public opinion of Congress with this measure in 1974. Just 18% of Americans approve of the job Congress is doing, while 76% disapprove, according to the August 13-16, 2007, Gallup Poll.

[...]

Frustration with Congress spans the political spectrum. There are only minor (but not statistically meaningful) differences in the approval ratings Democrats (21%), Republicans (18%), and independents (17%) give to Congress. Typically, partisans view Congress much more positively when their party is in control of the institution, so the fact that Democrats' ratings are not materially better than Republicans' is notable.

The nine-point drop in Congress' job approval rating from last month to this month has come exclusively from Democrats and independents, with Democrats' ratings dropping 11 points (from 32% to 21%) and independents' ratings dropping 13 points (from 30% to 17%). Republicans' 18% approval rating is unchanged from last month.

[...]

The decline in congressional job approval could merely reflect the cessation of any public good will it engendered when the new leadership arrived in January, since the current 18% rating is similar to what it was in December 2006 (21%).

But, it could also reflect disappointment with the new Congress' performance (especially among Democrats) and economic unease.
Understand why the networks ignored this?
Bucking the trend was Fox News' "Special Report" Tuesday:
BRIT HUME, ANCHOR: The U.S. Congress has sunk to new depths of disapproval in the minds of Americans, losing a full third of its support in the last month. A new Gallup Poll finds only 18 percent of those surveyed approve of the job Congress is doing. That compared with 27 percent last month. That matches the previous record low back in 1992, when Congress was beset by scandal, and the change comes entirely from Democrats, an 11 percentage point drop, and independents, a 13 point fall off from last month. Republican approval remains unchanged. That at 18 percent.
Lisa Sylvester, sitting in for Lou Dobbs, also reported some of these numbers on CNN's "Lou Dobbs Tonight" Tuesday.